Archive for the 'Core Foods' Category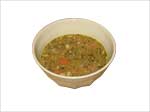 This is a great recipe for turkey soup that you can make when roasting a turkey. Instead of throwing away the carcass, you can easily make this delicious and healthy soup. You can vary the amounts of the ingredients to make it brothy and light or more concentrated with more vegetables. It takes about 2 to 3 hours to make, so plan on a long day when roasting a turkey. You can either make this soup with the carcass alone, or you can completely de-bone the entire turkey and dice the meat for sandwiches and use all the bones.
Turkey Soup Ingredients:
1 carcass from a roasted turkey
1 – 2 lb carrots
1/2 – 1 lb celery
1 – 2 large onions
2 – 4 bay leaves
1 1/2 – 3 tsp thyme
2 – 4 cloves garlic – chopped
1 – 2 1/2 gallons water
1/4 – 1/2 tsp pepper
2 – 3 tsp salt
Directions:
When roasting a turkey, plan for making the soup with the carcass to avoid wasting it. When you begin carving the turkey, add water to a 1 to 3 gallon pot and place on stove and turn up flame to get water boiling. Note the range of ingredients and that you can vary the soup somewhere between a light, brothy style or a hardier style with more vegetables. You can make it to your liking. Simply add more or less ingredients according to the ranges in the ingredients list. Use the larger amounts of ingredients when using the larger amount of water (and a larger pot), or use fewer carrots, celery and onions with the larger amount of water for a brothier soup. Use the smaller amounts when a more concentrated variety is desired. Either way, it will be good.
When the water starts to boil, add the turkey carcass and all the bones to the heating water. Next, add the bay leaves. In the meantime, chop the carrots, celery and onion, then add the chopped vegetables to the water. Then add the thyme, pepper and salt. Cover and return to a boil, then lower the flame and keep it at a low boil for about 2 hours.
After a couple of hours, check the water level and add more water as needed to replace any that gets boiled off. Also check the meat on the bones. Somewhere between 2 1/2 and 3 hours, all the meat should be falling off the bones.
When the soup has finished cooking, use a pair of kitchen tongs to separate all the bones and place them into a strainer over a plate. After the bones have drained, pour the strained soup back into the pot, then separate all the meat from the bones and add it to the soup.
Making a roast turkey is very easy to do. We cook a lot of turkey in our household because it is a good source of protein and it can be used in a variety of dishes. Most of the time is spent cooking. It is not as hard as it looks.
Start by obtaining a whole bird and make sure it is completely thawed, first. Note its weight and plan for a cooking time according to the table below:
| | | |
| --- | --- | --- |
| Net Weight | Unstuffed (Hrs.) | Stuffed (Hrs.) |
| 14 – 16 Lbs. | 3 – 3 ½ Hrs. | 3 ½ – 3 ¾ Hrs. |
| 16 – 18 Lbs. | 3 ½ – 3 ¾ Hrs. | 3 ¾ – 4 Hrs. |
| 18 – 20 Lbs. | 3 ¾ – 4 Hrs. | 4 – 4 ½ Hrs. |
| 20 – 22 Lbs. | 4 – 4 ½ Hrs. | 4 ½ – 5 Hrs. |
| 22 – 24 Lbs. | 4 ½ – 5 Hrs. | 5 – 5 ½ Hrs. |
Note: the actual cooking time may vary from this chart. The turkey will be done when the temperature in the deepest part of the thigh reaches 180° and when the juices are clear when the thigh muscle is carved (not reddish pink).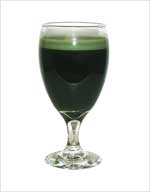 This is the recipe for our morning green drink. I found that it gives me energy and holds me over before breakfast so I can go for a morning walk without getting hungry. It takes about 5 minutes to make. Use a hand blender to blend all the ingredients and use an old jar with a lid that you can save from some other food product. The hand blender we use is a Cuisinart Smart Stick. We got it at our local Bed, Bath & Beyond store.
The Berry Greens we use are called "Delicious Berry Greens 8000". They are made by Pakonen Nutraceuticals Inc. (www.greens8000.com), but they are available from many online distributors at better prices. Just search Google for "Delicious Berry Greens 8000".
The Spirulina powder and the Barley Grass powder we use is from Starwest Botanicals and they each come in a 1-lb re-sealable bag. The Chlorella powder we use is called Jarrow Formulas "Yaeyama Chlorella" (1 kg) . We buy all 3 of these from from VitaCost.com (www.vitacost.com).
Instant Green Drink (makes 2 servings)
1 tbsp Spirulina powder
2 scoops Berry Greens (it comes with a scoop)
1 tbsp Chlorella powder
1 tbsp Barley Grass powder
24 oz drinking water (bottled, distilled or filtered)
Directions:
Add 1 tbsp Spirulina to an empty glass shaker (with lid). We use an empty jar with lid that we saved from some other food product. Add about 8 oz drinking water to the jar (bottled, distilled or filtered). Mix with a hand blender for a few seconds. This is to mix the Spirulina. It tends to get clumpy if you don't mix it first. Next, add the Berry Greens, then the Chlorella and then the Barley Greens. Add more water bringing the total up to 24 oz (enough for 2 servings). Put the lid on the jar and shake it thoroughly for a few seconds to submerge all the powders, then remove the lid and blend with a hand blender for about 30-45 seconds. Make sure everything is blended thoroughly. Serve immediately. Makes 2 servings.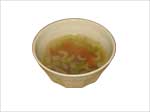 This is a quick and easy recipe for veggie soup that is also inexpensive and very healthy. This recipe makes enough to feed a small army or a large family (10 to 12 hefty servings). You can serve it "as-is" or you can add 1/4 cup to 1/3 cup cooked, diced turkey or chicken to the finished bowl.
It takes an hour and 20 minutes to cook, and total preparation time is about 15 to 20 to minutes. You can set a timer and go off and do something else while it is cooking. This is a very delicious soup and is sure to be a hit with family and company.
Veggie Soup Ingredients:
1 lb carrots
1/2 lb celery
1 large onion
2 vegetable bouillon cubes
10 cups water
1/4 tsp pepper
*1 1/2 tsp salt (if using low sodium boillon)
Directions:
Add water to a 1 gallon pot and place on stove and turn up flame to get water boiling. In the meantime, chop the carrots, celery and onion. When the water starts to boil, add the bouillon cubes. The directions for bouillon cubes usually state 1 cube per cup of water but for this recipe we want a little less than half the concentration because the vegetables supply a lot of the flavor.
Allow water to boil until bouillon is completely dissolved. Use a wooden spoon to help break up the bouillon cubes, if necessary. Then add chopped vegetables, salt and pepper.
*Note: Be careful not to use too much salt. The amount of salt depends on whether you are using low sodium or regular bouillon cubes. Regular bouillon cubes are very salty. Taste first before adding any salt. In this example, I am using low sodium bouillon cubes. Adding 1-1/2 tsp of salt in this case will make it slightly under-salted, but not too bland.
Bring the mixture back to a boil, then reduce flame, cover and simmer for about 1 hour and 20 minutes, stirring occasionally. Serve hot. Add cooked, diced chicken or turkey into the bowl to add protein and make more filling.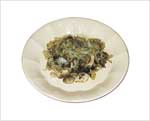 This is a very simple recipe with a lot of possibilities. It can be prepared fairly quickly and easily (about 10 – 15 minutes). This dish can given a completely different character by using the various seasoning options.
I like the basic garlic and oregano version, but the other two seasoning options are equally good. One of the unusual ways to season this dish is to use toasted onions. Toasted onions used to be available in most stores in the spice section, but lately I haven't seen them. You will have to find them either at a store that offers imported foods or you will have to obtain them online. You can add them dry after cooking or you can add them during cooking. I prefer to add them during cooking.
The third seasoning option is to use a little toasted sesame oil during cooking. Toasted sesame oil is available at most health food stores.
Ground Beef with Mushrooms and Onions
1 lb Ground beef
10 oz Sliced mushrooms
1 Medium onion
Seasoning
Divide the ground beef into 4 parts and make 4 patties. Grill the patties until done. Chop the onion and add to a frying pan. Add the mushrooms to the pan and cook for about 10 minutes over a medium flame. Add seasoning while cooking. Top each patty with a portion of the cooked mushrooms and onions.
Seasoning Options (choose one from the following):
Salt, pepper, garlic powder (or granulated garlic) and oregano
Salt plus toasted onions (chopped/minced)
Salt, pepper and toasted sesame oil