Archive for the 'Heart Healthy Recipes' Category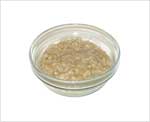 Oatmeal is one of the healthiest foods you can make for breakfast. Studies have shown that it can help reduce cholesterol. It is loaded with fiber and high quality complex carbohydrate. Make sure when you buy oatmeal that you buy whole oats – not instant oats. Instant oats are pre-cooked and much of the fiber and nutrients are lost in the process. Also I prefer rolled oats, not steel cut oats. Besides the fact that I prefer the flavor of rolled oats over steel cut oats, it's been my experience that steel cut oats takes 20 – 30 minutes to cook, while it only takes 5 minutes to cook rolled oats.
You can add toppings to your oatmeal to make a more delicious meal. I try to keep a supply of frozen fruit and berries, plus some fresh fruit like apples or bananas. Blueberries are great because they are loaded with antioxidants. Other good toppings are all natural apple butter (made without sugar), unsweetened shredded coconut and raw nuts (raw almonds, pecans or walnuts – halves or chopped). Remember to always use raw, uncooked nuts and natural products made without sugar. Roasting nuts introduces trans fats which are bad for you. Raw nuts contain good, healthy fats.
5 Minute Oatmeal
1 cup water
1/2 cup old fashioned oats (not quick oats)
Dash salt
Sweeten with Stevia Extract, Raw Honey or Blue Agave Syrup
Optional, but very beneficial:
1 tbsp Rice Bran
1 tbsp Milled Flaxseed
Add water to saucepan. Add salt to water, then stir briefly and add oats. Bring to boil, reduce heat and simmer for about 5 minutes stirring occasionally. Oatmeal will be cooked when starch has formed around edges and oatmeal has thickened. Add dry goods – rice bran, milled flaxseed and dry sweetener to a dry bowl, mix together then add cooked oatmeal. Add toppings and enjoy!
Toppings / Combinations:
Apple butter with a dash of cinnamon plus chopped raw almonds, pecans or walnuts
Apple slices with a dash of cinnamon
Peach slices with ground nutmeg / cloves
Banana slices with unsweetened shredded coconut
Blueberries, blackberries, strawberries – fresh or frozen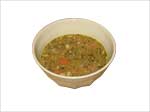 This is a great recipe for turkey soup that you can make when roasting a turkey. Instead of throwing away the carcass, you can easily make this delicious and healthy soup. You can vary the amounts of the ingredients to make it brothy and light or more concentrated with more vegetables. It takes about 2 to 3 hours to make, so plan on a long day when roasting a turkey. You can either make this soup with the carcass alone, or you can completely de-bone the entire turkey and dice the meat for sandwiches and use all the bones.
Turkey Soup Ingredients:
1 carcass from a roasted turkey
1 – 2 lb carrots
1/2 – 1 lb celery
1 – 2 large onions
2 – 4 bay leaves
1 1/2 – 3 tsp thyme
2 – 4 cloves garlic – chopped
1 – 2 1/2 gallons water
1/4 – 1/2 tsp pepper
2 – 3 tsp salt
Directions:
When roasting a turkey, plan for making the soup with the carcass to avoid wasting it. When you begin carving the turkey, add water to a 1 to 3 gallon pot and place on stove and turn up flame to get water boiling. Note the range of ingredients and that you can vary the soup somewhere between a light, brothy style or a hardier style with more vegetables. You can make it to your liking. Simply add more or less ingredients according to the ranges in the ingredients list. Use the larger amounts of ingredients when using the larger amount of water (and a larger pot), or use fewer carrots, celery and onions with the larger amount of water for a brothier soup. Use the smaller amounts when a more concentrated variety is desired. Either way, it will be good.
When the water starts to boil, add the turkey carcass and all the bones to the heating water. Next, add the bay leaves. In the meantime, chop the carrots, celery and onion, then add the chopped vegetables to the water. Then add the thyme, pepper and salt. Cover and return to a boil, then lower the flame and keep it at a low boil for about 2 hours.
After a couple of hours, check the water level and add more water as needed to replace any that gets boiled off. Also check the meat on the bones. Somewhere between 2 1/2 and 3 hours, all the meat should be falling off the bones.
When the soup has finished cooking, use a pair of kitchen tongs to separate all the bones and place them into a strainer over a plate. After the bones have drained, pour the strained soup back into the pot, then separate all the meat from the bones and add it to the soup.
Making a roast turkey is very easy to do. We cook a lot of turkey in our household because it is a good source of protein and it can be used in a variety of dishes. Most of the time is spent cooking. It is not as hard as it looks.
Start by obtaining a whole bird and make sure it is completely thawed, first. Note its weight and plan for a cooking time according to the table below:
| | | |
| --- | --- | --- |
| Net Weight | Unstuffed (Hrs.) | Stuffed (Hrs.) |
| 14 – 16 Lbs. | 3 – 3 ½ Hrs. | 3 ½ – 3 ¾ Hrs. |
| 16 – 18 Lbs. | 3 ½ – 3 ¾ Hrs. | 3 ¾ – 4 Hrs. |
| 18 – 20 Lbs. | 3 ¾ – 4 Hrs. | 4 – 4 ½ Hrs. |
| 20 – 22 Lbs. | 4 – 4 ½ Hrs. | 4 ½ – 5 Hrs. |
| 22 – 24 Lbs. | 4 ½ – 5 Hrs. | 5 – 5 ½ Hrs. |
Note: the actual cooking time may vary from this chart. The turkey will be done when the temperature in the deepest part of the thigh reaches 180° and when the juices are clear when the thigh muscle is carved (not reddish pink).