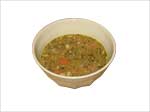 This is a great recipe for turkey soup that you can make when roasting a turkey. Instead of throwing away the carcass, you can easily make this delicious and healthy soup. You can vary the amounts of the ingredients to make it brothy and light or more concentrated with more vegetables. It takes about 2 to 3 hours to make, so plan on a long day when roasting a turkey. You can either make this soup with the carcass alone, or you can completely de-bone the entire turkey and dice the meat for sandwiches and use all the bones.
Turkey Soup Ingredients:
1 carcass from a roasted turkey
1 – 2 lb carrots
1/2 – 1 lb celery
1 – 2 large onions
2 – 4 bay leaves
1 1/2 – 3 tsp thyme
2 – 4 cloves garlic – chopped
1 – 2 1/2 gallons water
1/4 – 1/2 tsp pepper
2 – 3 tsp salt
Directions:
When roasting a turkey, plan for making the soup with the carcass to avoid wasting it. When you begin carving the turkey, add water to a 1 to 3 gallon pot and place on stove and turn up flame to get water boiling. Note the range of ingredients and that you can vary the soup somewhere between a light, brothy style or a hardier style with more vegetables. You can make it to your liking. Simply add more or less ingredients according to the ranges in the ingredients list. Use the larger amounts of ingredients when using the larger amount of water (and a larger pot), or use fewer carrots, celery and onions with the larger amount of water for a brothier soup. Use the smaller amounts when a more concentrated variety is desired. Either way, it will be good.
When the water starts to boil, add the turkey carcass and all the bones to the heating water. Next, add the bay leaves. In the meantime, chop the carrots, celery and onion, then add the chopped vegetables to the water. Then add the thyme, pepper and salt. Cover and return to a boil, then lower the flame and keep it at a low boil for about 2 hours.
After a couple of hours, check the water level and add more water as needed to replace any that gets boiled off. Also check the meat on the bones. Somewhere between 2 1/2 and 3 hours, all the meat should be falling off the bones.
When the soup has finished cooking, use a pair of kitchen tongs to separate all the bones and place them into a strainer over a plate. After the bones have drained, pour the strained soup back into the pot, then separate all the meat from the bones and add it to the soup.