Archive for December, 2013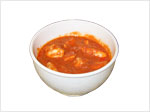 Chicken tikka masala can be prepared quickly and easily in about 10 minutes or so with simmer sauce either pre-prepared and available in a jar from a grocery store or from simmer sauce made from scratch. It is a mild curry sauce made with tomatoes.
The recipe for making tikka masala simmer sauce from scratch can be found at this website. Please check the "Sauces and Dressings" section on the Recipe Index Page (a link to the Recipe Index is located on the main navigation menu at the top of the page).
A moist towelette can come in handy on occasion where there is no access to a sink or other washing facility, especially when camping or in other outdoor areas. These are available commercially, but if you only need a few and you don't want to buy a case of 1000 and you don't want any of the commercial brands that use toxic hand sanitizers, then you can make a pretty good version of your own very quickly and easily with a paper towel, water, a little rubbing alcohol and a sandwich bag.