Archive for February, 2010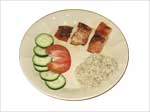 This is a quick and easy recipe that you can make in about 10-15 minutes. I like Alaskan Wild Salmon because it isn't farm-raised. We are able to get ours from Trader Joe's here in Southern California.
Typically, a 1 to 1 1/2 lb package will make about 3-4 servings. We like to serve it with brown rice and sliced vegetables or with a green salad. This meal is made from good, whole, natural foods.
Ingredients:
1 – 1 1/2 lbs Wild Alaskan Salmon
Paprika
Garlic powder
Lemon slice
Cut salmon into small slices and place in a shallow foil-lined pan. Cutting salmon into small slices will make slightly crispy edges and good texture. Sprinkle with parika and garlic powder. Broil on high for about 10 minutes. When salmon is cooked, remove from broiler and fold the foil over to enclose the cooked salmon and allow it to steam for about 5 minutes to make it tender and juicy. Cooking time will vary according to the thickness of the salmon. Garnish with lemon slice.