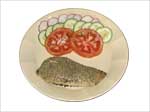 This is a relatively quick and easy recipe that you can make in about 20 minutes. Chicken breast is a staple food for people who wish to lose weight, but it can get really boring. If cooked carelessly, it can turn out very dry and tasteless. This recipe will make a very tender and juicy baked chicken breast that is seasoned well and is very tasty.
I prefer range-free chicken that doesn't contain any hormones or antibiotics. These additives make chickens grow large, and, unfortunately, I believe that they can make people grow large as well. We are able to get range-free chicken at a reasonable price from Trader Joe's here in Southern California.
Baked chicken breast can be served as a main dish or you can cut it into pieces that you can toss into a green salad.
Ingredients:
1 lb boneless, skinless chicken breast (about 2 breasts)
Thyme
Basil
Oregano
Salt
Pepper
Preheat oven to 425°. Place chicken breasts in a baking pan and season liberally with thyme and basil and sparingly with oregano. Then sprinkle with salt and pepper. Place in preheated oven and bake for about 20 to 25 minutes. Adjust cooking time according to the weight of the chicken, more or less time for more or less weight. Serve hot, tender and juicy.