Archive for the 'Sauces and Dressings' Category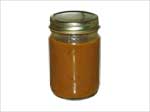 You can make your own homemade salad dressing very easily in about 5-10 minutes with this healthy recipe. The main advantage is that you can control the ingredients – you know what's going into it.
The main ingredients of this salad dressing are olive oil and red wine vinegar. These are typical ingredients found in Mediterranean foods so I call it "Mediterranean Salad Dressing." It also has a spicy flavor because it has curry powder, pepper and Dijon mustard. Place it in the refrigerator after mixing and shake it up real good before using it. ... Read More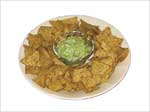 This is a quick and easy recipe for guacamole that is also very healthy. Avocados, hot peppers and garlic have health benefits.
The most important thing is to use ripe avocados – not too soft and not too hard. If you buy unripened avocados, you can put them in a paper bag in a dark place for a few days and they will ripen. Guacamole is best served with tortilla chips or sliced celery or carrots.
Guacamole Ingredients:
2 ripe avocados
1 Roma tomato
1 Shallot
2 garlic cloves
1 lime
1 jalapeño pepper
3/4 tsp salt
Directions:
Mash the 2 avocados in a mixing bowl. Squeeze the lime juice with a citrus juicer and add it to the bowl. Peel the shallot and garlic cloves then finely chop them plus the jalapeño pepper with a chopper. Dice the tomato then chop the diced tomato with the chopper. Add all chopped ingredients to the mixing bowl. Mix thoroughly and add salt. Makes 2 cups of guacamole.