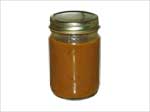 You can make your own homemade salad dressing very easily in about 5-10 minutes with this healthy recipe. The main advantage is that you can control the ingredients – you know what's going into it.
The main ingredients of this salad dressing are olive oil and red wine vinegar. These are typical ingredients found in Mediterranean foods so I call it "Mediterranean Salad Dressing." It also has a spicy flavor because it has curry powder, pepper and Dijon mustard. Place it in the refrigerator after mixing and shake it up real good before using it.
Ingredients:
3/4 cup olive oil
1/4 cup red wine vinegar
2 tbsp soy sauce
1 juice from one lime
1 tsp raw honey
1 tsp Dijon mustard
1/2 tsp curry powder
1/2 tsp garlic powder
1/2 tsp salt
1/2 tsp pepper
In a mixing jar, combine olive oil, red wine vinegar, soy sauce, juice from one fresh lime, honey, Dijon mustard, curry powder, garlic powder, salt and pepper. Close lid and shake vigorously for several minutes to thoroughly mix ingredients. Keep refrigerated.