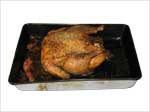 Ahhh, tasty herb roasted chicken with crisp skin! You can cook this yourself with some basic ingredients in about an hour and a half. Buy a whole chicken – preferably pasture raised (as organic as possible … not corn fed and not fattened up with hormones and antibiotics). I try to buy chicken that doesn't contain any hormones or antibiotics, but it can be tricky getting the correct information.
Currently, there are some chickens being peddled as "Free Range" which are pretty much meaningless. The term, "Free Range", does not mean it was not fed with corn laced with chemicals, and the terms "no added hormones or antibiotics" doesn't mean that the growers didn't add the chemicals into the food, so caveat emptor, "Let the buyer beware."
Hormones and antibiotics make chickens grow much larger than they do naturally. Good, healthy chickens that weigh around 3 lbs. or just over that is about as big as they should be. I am suspicious of gigantic chicken breasts being sold as "Free Range." If the chicken looks too big, it was probably given hormones and antibiotics. I like the chickens from Mary's Pasture Raised Chickens. They are available locally at Whole Foods Markets.
Ingredients:
1 whole chicken, about 3 lbs or so
thyme
basil
oregano
rosemary
salt
pepper
Preheat oven to 425°. Leave the skin on the chicken and place it in a baking pan breast side up. Liberally season the outside and inside with thyme and basil and sparingly with oregano. Liberally season the inside only with rosemary. Then sprinkle outside with salt and pepper. Place in preheated oven on the top rack and bake for 1 hour and 10 minutes.
This will make a tender and juicy bird with a crispy skin.
Note: Adjust cooking time depending on the weight of the chicken – for example 1 hour and 10 minutes for a 3 lb chicken.