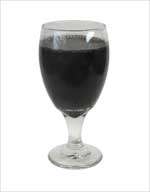 Here is a quick and easy recipe for a chlorella green drink with berries. You will need chlorella powder, spirulina powder and black raspberry powder plus some bee pollen (keep in the freezer), some frozen organic blueberries, some raw organic honey and (optionally) some stevia extract if you don't want to use too much honey.
The stevia extract we have been using comes from Trader Joe's. It comes in one gram packets and it is fairly inexpensive. Chlorella and spirulina powder is very common and easy to find from health food suppliers. The black raspberry powder we use is Virgin Extracts Black Raspberry Extract Powder. It is made by FoodsSuper.com and is available from Amazon.com and other places.
We use Jarrow Formulas "Yaeyama Chlorella" (1 kg) and Starwest Botanicals Spirulina powder. We buy both of these from from VitaCost.com.
Chlorella Berry Drink (makes 2 servings)
2 tbsp organic chlorella powder
2 tbsp organic spirulina powder
4 tbsp organic black raspberry powder
2 tsp bee pollen
4 stevia packets (1 gram per packet) optional if less honey is desired
2 tbsp raw honey (to taste)
1/2 cup frozen organic blueberries
16 oz drinking water (bottled, distilled or filtered)
12 ice cubes
Directions:
Add water to blender, and then add remaining ingredients. Blend on low for a minute or so, then blend on high speed until smooth. Make sure everything is blended thoroughly. Serve immediately. Makes 2 servings.