Archive for the 'Healthy Foods' Category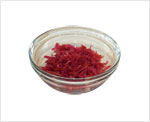 It is very easy to make fermented vegetables. For hundreds of years – maybe thousands – people all over the world have made cultured foods part of their diet. We find sauerkraut in Germany, kimchi in Korea. natto and miso from Japan as well as pickles, yogurt, kefir, cheese and many other varieties from all over the world. Back in the days when there were no refrigerators, people's survival depended on a way to preserve foods. Fermenting foods was a way to accomplish this.
The health benefits from cultured foods comes from live microorganisms, which the human body incorporates as gut bacteria. Healthy gut bacteria is necessary to help fend off bad bacteria. Too many foods in today's world is lacking in good bacteria. If we don't consume regular amounts of good bacteria, we are essentially giving the bad bacteria the advantage in our bodies.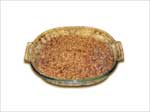 Natto is a Japanese fermented soy dish that can be made very easily from cooked soybeans. In order to make natto at home you will need a couple of things. First, you will have to obtain some cultured natto bacillus (Natto Kin) to add to some cooked soybeans. Simply obtain some frozen natto from an Asian market. The frozen natto will contain the live culture that you can use to innoculate your batch.
The second thing you will need is a thermostatically controlled device like a warming drawer or crock pot which can be set to 104°F – 105°F and will maintain a steady temperature for 24 hours to allow the live culture grow and reproduce so the natto will ferment properly.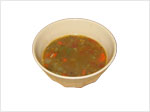 Lentil soup is a hearty, thick soup and is very popular with family and friends. Many lentil soup recipes call for adding a ham bone or pork or other meat. This is a vegetarian version that has no animal products or animal fat. It uses a little bit of olive oil but that is a good, healthy fat.
This is a hearty, delicious and healthy soup recipe that is sure to be a favortie with friends and family. It is low in fat and high in satisfying flavor.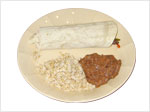 If you have a craving for something hot and spicy, then this is the perfect recipe! It's a hot and spicy burrito with grilled steak and 5 different chili peppers – and not just any chili peppers! It uses serranos, habaneros and jalapeños to supply the hotness plus it has Anaheim peppers and mini peppers for added flavor. It's pretty hot, but its good!
This recipe is similar to the steak fajitas recipe elsewhere in this website. The main difference is that this recipe calls for skirt steak instead of flat iron steak. Try to get a good cut of lean meat — preferably grass-fed beef. If it isn't so lean, then spend the time and trim away all the fat you can manage. You want the steak to be really lean for two reasons. First, it makes for better flavor and second, it is healthier with less fat.
The hot & spicy burrito is also prepared with guacamole. The recipe for guacamole can be found in the sauces and dressings section of this website. ... Read More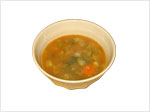 This is the quickest vegetable soup recipe that I know. It is delicious and low in fat, yet very fast and easy to make. Most soups take a lot of time to make and usually you wind up making enough to feed a small army. You can make a half-batch of this recipe if you like (all the photos I shot were a half-batch).
So with this recipe you can make it fast plus you can make it in small batches. Those are two big plus points … and another plus is that it is healthy! We try to use all organic ingredients – organic broth, organic basil and oregano, organic carrots, green beans and cabbage.
The secret to this recipe is that you start with vegetable broth and beef broth. They come in handy 32-oz containers. That's what saves the time. We only use organic broths because we want to make sure they are healthy to begin with. You simply add in fresh vegetables. It only takes a few minutes to chop them. Using fresh vegetables always ensures you're getting good food. That's important. ... Read More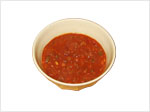 There's nothing like homemade chili! It seems like everyone has his or her own special recipe so this is my version. You can cook it up on the stove in a couple of hours. You first need to have some cooked pinto beans. You can cook them the day before and keep them in the refrigerator or soak them the night before and cook the beans and the chili all in one day. They take about 3 hours to cook after soaking all night.
Everything in this recipe is healthy. I use grass-fed ground beef. It's the best quality beef you can obtain. Some chili recipes call for kidney beans, but this one uses pinto beans.
This recipe uses 3 different kinds of chili peppers – Anaheim, serrano and sweet mini-peppers. The Anaheim peppers are very mild and the serrano peppers provide all the hotness. You can substitute jalapeño peppers for the serrano peppers if you want. Jalapeño peppers are not quite as hot, but will work. The nice thing about cooking with peppers is that it seems no matter how you combine them, you can taste all the individual flavors. ... Read More
Water kefir is a delicious and easy-to-make probiotic drink that you can make yourself at home. I find this to be a very inexpensive way to culture your own probiotics. Just make them yourself from a live culture – like water kefir – and use the living culture to repeat the process over and over.
Most of the websites that show how to make water kefir either sell the hydrated, living kefir grains from their websites or advise that you obtain the kefir grains from someone else who has a growing culture and can spare some kefir grains that have multiplied.
In this article, I will show you a different way. You can buy your own dehydrated water kefir grains on the Internet and then rehydrate them yourself. Rehydrating kefir grains will take just a few days and, following that, you can make regular, running batches of water kefir from them.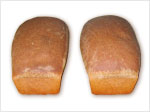 This is essentially the same recipe as a previous post for one loaf of whole grain whole wheat bread except that the amounts of the ingredients have been adjusted for two loaves instead of one. There is another difference in that the recipe for one loaf is for a 9 x 5 inch loaf pan and this recipe uses two 8 1/2 x 4 1/2 inch pans. The pans are slightly smaller so the recipe is not double the amounts of the recipe for one loaf. This recipe has been adjusted to be in proportion to the smaller pans.
You might prefer baking two loaves at a time instead of one loaf because it takes just about the same amount of time and effort as it does for one loaf and baking two loaves doesn't require any additional yeast. You use the same amount of yeast for two loaves as you do for one loaf.
Pesticides are used by the U.S. food industry on crops to kill insects. Conventional growers use pesticides, but organic food producers do not use them. Exposure to foods grown with the use of pesticides has been linked to many health problems. Pesticides are harmful. It is much safer to buy organically grown food than conventionally grown food.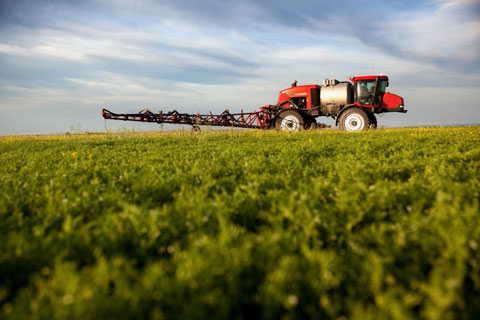 Pesticides are toxic chemicals and can lead to obesity and otherwise seriously damage your health. Although the government plays a role in protecting its citizens from pesticide exposure, it is no guarantee for our safety. People must still remain vigilant in how we select and prepare our food. ... Read More
In December, 2010 Dr. Mehmet Oz did a segment on the Dr. Oz Show about genetically modified foods. The subject of GMO foods or "Genetically Modified Organisms" is an important topic for the everyday person to understand because GMO ingredients are used in most processed foods.
Much of the corn, soy and canola grown in the United States is genetically modified. These three crops are used in many derivative ingredients such as HFCS (high fructose corn syrup) a sweetener found in "processed foods and beverages, including breads, cereals, breakfast bars, lunch meats, yogurts, soups and condiments" (source: Wikipedia). Ingredients made from the soybean is also widely used – soy oil, textured vegetable protein, animal feed, etc. Canola oil is a major ingredient in the food industry. ... Read More