Posts Tagged 'Chili con carne'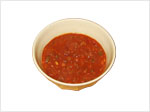 There's nothing like homemade chili! It seems like everyone has his or her own special recipe so this is my version. You can cook it up on the stove in a couple of hours. You first need to have some cooked pinto beans. You can cook them the day before and keep them in the refrigerator or soak them the night before and cook the beans and the chili all in one day. They take about 3 hours to cook after soaking all night.
Everything in this recipe is healthy. I use grass-fed ground beef. It's the best quality beef you can obtain. Some chili recipes call for kidney beans, but this one uses pinto beans.
This recipe uses 3 different kinds of chili peppers – Anaheim, serrano and sweet mini-peppers. The Anaheim peppers are very mild and the serrano peppers provide all the hotness. You can substitute jalapeño peppers for the serrano peppers if you want. Jalapeño peppers are not quite as hot, but will work. The nice thing about cooking with peppers is that it seems no matter how you combine them, you can taste all the individual flavors. ... Read More