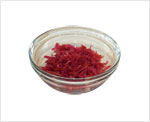 It is very easy to make fermented vegetables. For hundreds of years – maybe thousands – people all over the world have made cultured foods part of their diet. We find sauerkraut in Germany, kimchi in Korea. natto and miso from Japan as well as pickles, yogurt, kefir, cheese and many other varieties from all over the world. Back in the days when there were no refrigerators, people's survival depended on a way to preserve foods. Fermenting foods was a way to accomplish this.
The health benefits from cultured foods comes from live microorganisms, which the human body incorporates as gut bacteria. Healthy gut bacteria is necessary to help fend off bad bacteria. Too many foods in today's world is lacking in good bacteria. If we don't consume regular amounts of good bacteria, we are essentially giving the bad bacteria the advantage in our bodies.
This is a delicious recipe adapted from the Dr, Mercola website:
http://articles.mercola.com/sites/articles/archive/2013/06/01/fermented-vegetables.aspx
There are a few differences with this recipe from the one at the Mercola site. We are using a different culture and we are only making 4.5 lbs (the amount recommended for one packet of culture). We can only refrigerate and go through so many quarts of vegetables at a time so we only make 4 jars each batch. There are also some variations in the vegetables and this recipe uses sea salt in the brine.
Fermented Vegetables:
4.5 lbs vegetables:

1/2 head red cabbage
1/2 head green cabbage
Optional 1/2 head of Asian cabbage
1/2 large golden beet
1 medium turnip
1 tart, green apple – Granny Smith or Fuji
1/2 large sweet potato
2-3 medium carrots
1/2 bunch radishes (about 5 medium radishes)
1 habanero pepper
2 thumb-sized pieces of ginger, peeled and shredded
3 cloves garlic
16 oz celery juice (best if juiced from fresh celery)

1 packet commercially available vegetable starter culture (such as Caldwell's) or powdered probiotics or cultured brine from previous batch
Sea salt
You will also need:

4 wide mouth Mason jars with lids and bands
Large mixing bowl
Food processor with shredding blade
Kraut pounder