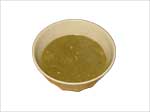 This is a recipe for split pea soup that I accidentally came up with. It started out as a recipe for Green Dal that was printed on a package of split peas. Green Dal is an Indian soup. I was not familiar with Indian cooking at that time. One of the ingredients was Garam Masala. I never bought Garam Masala before. The store was out of Garam Masala that particular day, so I bought Tikka Masala instead. That was a fortuitous accident because the result was really good. Tikka Masala goes really well with really split peas.
This is a very easy soup to make. It takes about an hour and a half. The split peas take an hour to cook, plus another 15 minutes to blend the cooked onions plus some time to chop the onions and prepare the ingredients. This is also a very healthy recipe. It will give you lots of energy without making you hungry.
Delicious Split-Pea Soup
1 cup Organic Green Split Peas (dry)
3 cups water
1 tsp. Sea Salt
2 cups chopped yellow onions
3 cloves garlic, finely chopped
1 tbsp. Tikka Masala Sauce
1/4 tsp. pepper
Salt to taste
Rinse and sort peas, drain and place in a medium saucepan with 3 cups of water, tsp. sea salt and l/2 cup of the chopped onions.
Bring to a boil, reduce heat, cover and simmer for about 1 hour until the peas are tender.
While the peas are cooking, sauté the remaining onion with a little butter or coconut oil along with the garlic and Tikka Masala Sauce in a skillet. Add a little water if needed. Cook over medium heat, stirring occasionally until they are soft and just beginning to turn golden brown (about 10-15 minutes).
When the peas are cooked, add the sautéed onion mixture, stirring to combine. Simmer 10-15 minutes to blend flavors. Season with salt and pepper.