Archive for the 'Healthy Eating' Category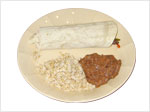 If you have a craving for something hot and spicy, then this is the perfect recipe! It's a hot and spicy burrito with grilled steak and 5 different chili peppers – and not just any chili peppers! It uses serranos, habaneros and jalapeños to supply the hotness plus it has Anaheim peppers and mini peppers for added flavor. It's pretty hot, but its good!
This recipe is similar to the steak fajitas recipe elsewhere in this website. The main difference is that this recipe calls for skirt steak instead of flat iron steak. Try to get a good cut of lean meat — preferably grass-fed beef. If it isn't so lean, then spend the time and trim away all the fat you can manage. You want the steak to be really lean for two reasons. First, it makes for better flavor and second, it is healthier with less fat.
The hot & spicy burrito is also prepared with guacamole. The recipe for guacamole can be found in the sauces and dressings section of this website. ... Read More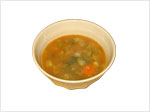 This is the quickest vegetable soup recipe that I know. It is delicious and low in fat, yet very fast and easy to make. Most soups take a lot of time to make and usually you wind up making enough to feed a small army. You can make a half-batch of this recipe if you like (all the photos I shot were a half-batch).
So with this recipe you can make it fast plus you can make it in small batches. Those are two big plus points … and another plus is that it is healthy! We try to use all organic ingredients – organic broth, organic basil and oregano, organic carrots, green beans and cabbage.
The secret to this recipe is that you start with vegetable broth and beef broth. They come in handy 32-oz containers. That's what saves the time. We only use organic broths because we want to make sure they are healthy to begin with. You simply add in fresh vegetables. It only takes a few minutes to chop them. Using fresh vegetables always ensures you're getting good food. That's important. ... Read More
Water kefir is a delicious and easy-to-make probiotic drink that you can make yourself at home. I find this to be a very inexpensive way to culture your own probiotics. Just make them yourself from a live culture – like water kefir – and use the living culture to repeat the process over and over.
Most of the websites that show how to make water kefir either sell the hydrated, living kefir grains from their websites or advise that you obtain the kefir grains from someone else who has a growing culture and can spare some kefir grains that have multiplied.
In this article, I will show you a different way. You can buy your own dehydrated water kefir grains on the Internet and then rehydrate them yourself. Rehydrating kefir grains will take just a few days and, following that, you can make regular, running batches of water kefir from them.
Pesticides are used by the U.S. food industry on crops to kill insects. Conventional growers use pesticides, but organic food producers do not use them. Exposure to foods grown with the use of pesticides has been linked to many health problems. Pesticides are harmful. It is much safer to buy organically grown food than conventionally grown food.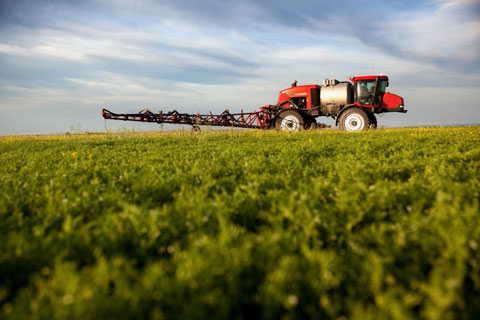 Pesticides are toxic chemicals and can lead to obesity and otherwise seriously damage your health. Although the government plays a role in protecting its citizens from pesticide exposure, it is no guarantee for our safety. People must still remain vigilant in how we select and prepare our food. ... Read More
In December, 2010 Dr. Mehmet Oz did a segment on the Dr. Oz Show about genetically modified foods. The subject of GMO foods or "Genetically Modified Organisms" is an important topic for the everyday person to understand because GMO ingredients are used in most processed foods.
Much of the corn, soy and canola grown in the United States is genetically modified. These three crops are used in many derivative ingredients such as HFCS (high fructose corn syrup) a sweetener found in "processed foods and beverages, including breads, cereals, breakfast bars, lunch meats, yogurts, soups and condiments" (source: Wikipedia). Ingredients made from the soybean is also widely used – soy oil, textured vegetable protein, animal feed, etc. Canola oil is a major ingredient in the food industry. ... Read More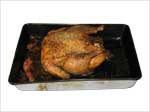 Ahhh, tasty herb roasted chicken with crisp skin! You can cook this yourself with some basic ingredients in about an hour and a half. Buy a whole chicken – preferably pasture raised (as organic as possible … not corn fed and not fattened up with hormones and antibiotics). I try to buy chicken that doesn't contain any hormones or antibiotics, but it can be tricky getting the correct information.
Currently, there are some chickens being peddled as "Free Range" which are pretty much meaningless. The term, "Free Range", does not mean it was not fed with corn laced with chemicals, and the terms "no added hormones or antibiotics" doesn't mean that the growers didn't add the chemicals into the food, so caveat emptor, "Let the buyer beware." ... Read More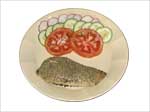 This is a relatively quick and easy recipe that you can make in about 20 minutes. Chicken breast is a staple food for people who wish to lose weight, but it can get really boring. If cooked carelessly, it can turn out very dry and tasteless. This recipe will make a very tender and juicy baked chicken breast that is seasoned well and is very tasty.
I prefer range-free chicken that doesn't contain any hormones or antibiotics. These additives make chickens grow large, and, unfortunately, I believe that they can make people grow large as well. We are able to get range-free chicken at a reasonable price from Trader Joe's here in Southern California.
Baked chicken breast can be served as a main dish or you can cut it into pieces that you can toss into a green salad.
Ingredients:
1 lb boneless, skinless chicken breast (about 2 breasts)
Thyme
Basil
Oregano
Salt
Pepper
Preheat oven to 425°. Place chicken breasts in a baking pan and season liberally with thyme and basil and sparingly with oregano. Then sprinkle with salt and pepper. Place in preheated oven and bake for about 20 to 25 minutes. Adjust cooking time according to the weight of the chicken, more or less time for more or less weight. Serve hot, tender and juicy.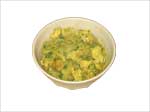 This is a delicious curry recipe that is relatively easy to make. You will need some turkey stew meat (turkey breast with all the fat and skin removed), fresh ginger root, Anaheim chili pepper, onion, garlic, plain yogurt, fresh coriander (cilantro), chicken broth and some curry powder. We buy our curry powder by the pound because it is more economical than what is available in grocery stores.
This recipe makes about 4 servings. It can be served by itself, but is best when served over brown rice. This isn't exactly a core food because it is made with a dairy product (yogurt) but it is still good. It is made with good, whole, natural foods.
Ingredients:
2 cups sliced onions
1 chopped green chili pepper (Anaheim chili)
1 tbsp. fresh ginger root, finely chopped
1 clove garlic, finely chopped
1 lb. turkey stew meat, bite sized pieces
1 tbsp. curry powder
1 cup chicken broth
1/4 cup chopped coriander (cilantro)
5 tbsp. plain yogurt
Start by cooking the brown rice. Use a rice cooker or tightly covered pot. While the rice is cooking, slice the onions into thin slices. For large onions, you can quarter them first. Chop the chili pepper, then finely chop the ginger and garlic (peel the ginger root before chopping). Add the sliced onions, chopped chili pepper, garlic and ginger to a large skillet along with a tbsp or two of coconut oil or butter, then cook over a medium flame until the onions are soft and slightly translucent (about 10 minutes). Add water if needed to keep from burning.
Cut the turkey into bite size pieces and add them to the skillet along with the curry powder. Mix thoroughly and cook for about 2 minutes until the curry is distributed evenly and the meat is slightly seared.
Add the chicken broth to the skillet, bring to a boil and simmer for about 5 minutes. Do not overcook the turkey.
When the chicken broth and curry are a smooth consistency, turn off the flame add the yogurt and coriander (cilantro), then stir to thoroughly mix everything.
Serve in bowls over brown rice.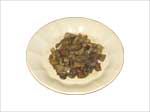 Portobello mushrooms are very popular and readily available in most local grocery stores and supermarkets. They are high in niacin, potassium and selenium. This is a delicious recipe that you can make very quickly and easily. It is cooked with white wine. You can make a non-alcoholic version simply by substituting the juice from 1/2 lime plus about 1 tablespoon of water instead of the white wine. The wine I used in this particular recipe was very inexpensive (Charles Shaw – also known as "Two Buck Chuck").
This is a good side dish and goes well with fish or meat as the main dish. They will make an excellent meal when served with steak, lamb or fish along with a tossed green salad or sliced tomatoes.
Ingredients:
4 Portobello mushrooms
1 lg onion
6 cloves garlic
1/3 cup white wine
1 tbsp olive oil
Salt
Cut Portobello mushrooms into 1/2 inch to 3/4 inch cubes. Chop the onion. Chop garlic cloves and place in frying pan. Sauté over a medium heat until garlic begins to look toasty. Add olive oil and turn heat down. Continue to sauté until garlic is soft and light brown in color, then add chopped vegetables to the pan. Salt to taste, then add white wine. Vegetables will be done when soft and brown.
Alternately: Use juice from 1/2 lime plus about 1 tbsp of water in place of the white wine.
This is my recipe for homemade refried beans. There are numerous recipes for refried beans. The traditional fat used has been lard. Finding a good source for healthy lard is not easy. You need to know a butcher that can get it for you. Refried beans are excellent for healthy eating or for losing weight.
First you will need to cook the pinto beans. You should soak the beans in water overnight, then on the following day it takes about 3-4 hours to cook them. This recipe uses some chili powder, oregano and other seasonings to add spice. You will sauté some chopped onions in a little lard, butter or coconut oil, then add crushed or minced garlic, then add seasonings to gradually infuse more and more flavor. At the end of the cooking you will add some fresh squeezed lime juice. You add it at the end to keep from cooking away the flavor.
Note: This recipe calls for 4 1/2 cups of cooked beans (a little more than double the volume of the dried beans). If you cook 4 cups of dried beans it will divide up into about 2 batches of 4 1/2 cups of cooked beans.
Fat Free Refried Beans
Ingredients:
4 1/2 cups cooked beans
1 cup chopped onions (about 1/2 large onion)
1 tbsp minced or crushed garlic
2 tbsp chili powder
2 tsp ground cumin
2 tsp salt
1 tsp oregano
1/2 juice from fresh squeezed lime (juice from 1/2 lime)
Mash the beans in a bowl with a masher and set aside for now. Add chopped onions to a heavy skillet and cook until soft and beginning to brown a little. Add 1 tbsp of water at a time to keep skillet moist and to keep from burning the onions. Then add garlic and continue cooking until the onions are a light brown color. Add mashed beans to skillet and mix thoroughly, then stir in the chili powder, cumin, oregano and salt. Continue to cook the beans in the skillet and stir with a spatula until it is a thick paste. At that time, add the lime juice and thoroughly mix it into the cooked beans. Turn off the heat once the lime juice is mixed in to avoid cooking away the lime flavor.