Posts Tagged 'Quick and easy soup'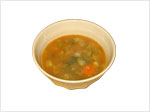 This is the quickest vegetable soup recipe that I know. It is delicious and low in fat, yet very fast and easy to make. Most soups take a lot of time to make and usually you wind up making enough to feed a small army. You can make a half-batch of this recipe if you like (all the photos I shot were a half-batch).
So with this recipe you can make it fast plus you can make it in small batches. Those are two big plus points … and another plus is that it is healthy! We try to use all organic ingredients – organic broth, organic basil and oregano, organic carrots, green beans and cabbage.
The secret to this recipe is that you start with vegetable broth and beef broth. They come in handy 32-oz containers. That's what saves the time. We only use organic broths because we want to make sure they are healthy to begin with. You simply add in fresh vegetables. It only takes a few minutes to chop them. Using fresh vegetables always ensures you're getting good food. That's important. ... Read More