Archive for the 'Healthy Meals' Category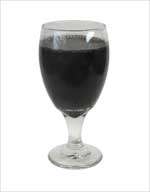 Here is a quick and easy recipe for a chlorella green drink with berries. You will need chlorella powder, spirulina powder and black raspberry powder plus some bee pollen (keep in the freezer), some frozen organic blueberries, some raw organic honey and (optionally) some stevia extract if you don't want to use too much honey.
The stevia extract we have been using comes from Trader Joe's. It comes in one gram packets and it is fairly inexpensive. Chlorella and spirulina powder is very common and easy to find from health food suppliers. The black raspberry powder we use is Virgin Extracts Black Raspberry Extract Powder. It is made by FoodsSuper.com and is available from Amazon.com and other places.
We use Jarrow Formulas "Yaeyama Chlorella" (1 kg) and Starwest Botanicals Spirulina powder. We buy both of these from from VitaCost.com.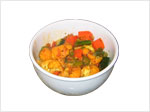 Vegetable curry is made by sautéing ingredients in a pan and gradually adding them a little at a time, infusing flavor into the ingredients as they are added. Heat up a little vegetable oil and then lightly sauté the garlic. Next, add whole cumin seeds and allow them to brown very slightly (about a minute or so). Then add some chopped red onions. Cook for a few minutes and then add some tomato paste (and, optionally, some chopped, ripe tomato). To this mixture, add spices (coriander seed powder and turmeric) with a little water. This will make a curry paste that becomes the base for everything else added later.
Add the vegetables that need the longest cooking time first (carrots and green beans), followed by the chopped chili peppers a few minutes later. Next, add the delicate flavors that you don't want to get cooked away too soon (fresh ginger and lime juice). The last vegetables added are the ones that need to be crunchy and not overcooked (cauliflower florets, broccoli florets and zuchchini). Don't add too much water. Keep the water level low and turn the vegetables often to bring them into contact with the hot cooking water. Serve hot and fresh right away. ... Read More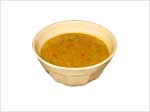 Mung bean soup is a thick, heavy bodied soup that you can serve as a meal in itself. Mung beans are sold in health food stores. They are used for sprouting (bean sprouts) and cooking in soups. Mung beans are popular with Indian cuisine and it makes a thick soup called "Dal". It goes great with curry dishes or all by itself
This recipe is very easy to make. It cooks pretty fast for a soup. A lot of soups take hours to cook but not this one. It has a mildly spicy flavor – not too hot. It uses Anaheim chili peppers, which are very mild – not very hot at all, so don't be afraid to cook with them. It uses fresh ginger and cilantro which adds a lot of zing to the soup.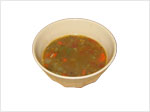 Lentil soup is a hearty, thick soup and is very popular with family and friends. Many lentil soup recipes call for adding a ham bone or pork or other meat. This is a vegetarian version that has no animal products or animal fat. It uses a little bit of olive oil but that is a good, healthy fat.
This is a hearty, delicious and healthy soup recipe that is sure to be a favortie with friends and family. It is low in fat and high in satisfying flavor.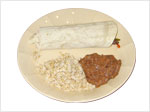 If you have a craving for something hot and spicy, then this is the perfect recipe! It's a hot and spicy burrito with grilled steak and 5 different chili peppers – and not just any chili peppers! It uses serranos, habaneros and jalapeños to supply the hotness plus it has Anaheim peppers and mini peppers for added flavor. It's pretty hot, but its good!
This recipe is similar to the steak fajitas recipe elsewhere in this website. The main difference is that this recipe calls for skirt steak instead of flat iron steak. Try to get a good cut of lean meat — preferably grass-fed beef. If it isn't so lean, then spend the time and trim away all the fat you can manage. You want the steak to be really lean for two reasons. First, it makes for better flavor and second, it is healthier with less fat.
The hot & spicy burrito is also prepared with guacamole. The recipe for guacamole can be found in the sauces and dressings section of this website. ... Read More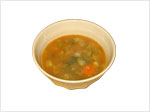 This is the quickest vegetable soup recipe that I know. It is delicious and low in fat, yet very fast and easy to make. Most soups take a lot of time to make and usually you wind up making enough to feed a small army. You can make a half-batch of this recipe if you like (all the photos I shot were a half-batch).
So with this recipe you can make it fast plus you can make it in small batches. Those are two big plus points … and another plus is that it is healthy! We try to use all organic ingredients – organic broth, organic basil and oregano, organic carrots, green beans and cabbage.
The secret to this recipe is that you start with vegetable broth and beef broth. They come in handy 32-oz containers. That's what saves the time. We only use organic broths because we want to make sure they are healthy to begin with. You simply add in fresh vegetables. It only takes a few minutes to chop them. Using fresh vegetables always ensures you're getting good food. That's important. ... Read More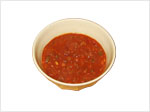 There's nothing like homemade chili! It seems like everyone has his or her own special recipe so this is my version. You can cook it up on the stove in a couple of hours. You first need to have some cooked pinto beans. You can cook them the day before and keep them in the refrigerator or soak them the night before and cook the beans and the chili all in one day. They take about 3 hours to cook after soaking all night.
Everything in this recipe is healthy. I use grass-fed ground beef. It's the best quality beef you can obtain. Some chili recipes call for kidney beans, but this one uses pinto beans.
This recipe uses 3 different kinds of chili peppers – Anaheim, serrano and sweet mini-peppers. The Anaheim peppers are very mild and the serrano peppers provide all the hotness. You can substitute jalapeño peppers for the serrano peppers if you want. Jalapeño peppers are not quite as hot, but will work. The nice thing about cooking with peppers is that it seems no matter how you combine them, you can taste all the individual flavors. ... Read More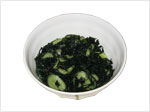 This is a quick and easy recipe for wakame salad that is very healthy. You will need some dried wakame flakes, raw, unfiltered apple cider vinegar with the "Mother" and raw honey – all available from a health food store. Two brands of apple cider vinegar I have tried are Braggs and Solana Gold. Raw honey is available in many brands. I was able to buy all the ingredients from Whole Foods Market here in Southern California.
It takes about 30 minutes to make wakame salad. Start by placing the contents of a 30-gram packet of dried wakame flakes in a bowl. Add water to rehydrate the wakame and then set aside. Next, slice a cucumber and spread the slices on a cutting board and salt them. Allow the salted cucumber slices to set for 20 minutes. Mix the honey and the apple cider vinegar in a small bowl. Stir to completely dissolve the honey. ... Read More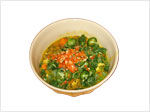 This is a basic vegetable curry recipe with chicken. The basic curry requires a little bit of vegetable oil for cooking, some chopped garlic, whole cumin seeds, red onions, tomatoes, mild green peppers, chopped ginger plus some turmeric root powder and some coriander powder. This is the basis for most any vegetable curry and takes about 6 to 8 minutes to cook thus far. Into this mixture you will add some vegetables. In this case I chose to add cauliflower, broccoli and yams. The vegetables require softening so they need to be cooked for about 25 to 30 minutes. Then I add some chicken cut into small pieces. Cook for another 5 minutes (don't cook the chicken too much … you don't want dry, hard chicken).
The basic idea for making curry is to have the ingredients all chopped up and prepared ahead of time. Start by sautéing chopped garlic in oil and gradually add each ingredient one after the other in a certain order, cooking each ingredient a little at a time. After sautéing the chopped garlic for a couple of minutes then you will add the whole cumin seeds. Cook them until the seeds are dark and the garlic is a very light tan color. Next, add the onions and cook them … you don't want them brown., Next, add the tomatoes … this will slow it down because tomatoes will contain some water. The last ingredient before adding the vegetables is the chopped ginger. You don't want to cook it too long and cook away the flavor … then you add the vegetables. You will probably need to add a little water for the vegetables. ... Read More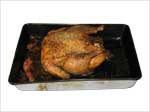 Ahhh, tasty herb roasted chicken with crisp skin! You can cook this yourself with some basic ingredients in about an hour and a half. Buy a whole chicken – preferably pasture raised (as organic as possible … not corn fed and not fattened up with hormones and antibiotics). I try to buy chicken that doesn't contain any hormones or antibiotics, but it can be tricky getting the correct information.
Currently, there are some chickens being peddled as "Free Range" which are pretty much meaningless. The term, "Free Range", does not mean it was not fed with corn laced with chemicals, and the terms "no added hormones or antibiotics" doesn't mean that the growers didn't add the chemicals into the food, so caveat emptor, "Let the buyer beware." ... Read More