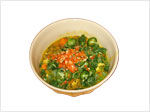 This is a basic vegetable curry recipe with chicken. The basic curry requires a little bit of vegetable oil for cooking, some chopped garlic, whole cumin seeds, red onions, tomatoes, mild green peppers, chopped ginger plus some turmeric root powder and some coriander powder. This is the basis for most any vegetable curry and takes about 6 to 8 minutes to cook thus far. Into this mixture you will add some vegetables. In this case I chose to add cauliflower, broccoli and yams. The vegetables require softening so they need to be cooked for about 25 to 30 minutes. Then I add some chicken cut into small pieces. Cook for another 5 minutes (don't cook the chicken too much … you don't want dry, hard chicken).
The basic idea for making curry is to have the ingredients all chopped up and prepared ahead of time. Start by sautéing chopped garlic in oil and gradually add each ingredient one after the other in a certain order, cooking each ingredient a little at a time. After sautéing the chopped garlic for a couple of minutes then you will add the whole cumin seeds. Cook them until the seeds are dark and the garlic is a very light tan color. Next, add the onions and cook them … you don't want them brown., Next, add the tomatoes … this will slow it down because tomatoes will contain some water. The last ingredient before adding the vegetables is the chopped ginger. You don't want to cook it too long and cook away the flavor … then you add the vegetables. You will probably need to add a little water for the vegetables.
I like to serve the curry in a bowl over a little cooked brown rice and then garnish it with fresh coriander leaves (cilantro) and chopped raw cashews. The curry is made with mild peppers (Anaheim peppers) and they are cooked which tends to make them even milder. You can add hotness with garnish. You can vary the hotness from hot (Jalapeño peppers or Serrano peppers) to very hot (Habanero peppers).
Ingredients:
1 lb skinless chicken breast meat, chopped into small pieces
1 cup fresh cauliflower florets
1 cup fresh broccoli, cut into small pieces with florets
2 cups fresh yams, cut into small pieces
1 cup chopped red onions
2 cups chopped tomatoes
1/2 cup Anaheim peppers, chopped
1 tbsp fresh ginger root, shredded / chopped
3 cloves garlic, finely sliced
1 tbsp coriander powder
1 tbsp turmeric root powder
1 tbsp whole cumin seeds
2 tbsp vegetable oil
2 tsp salt
Garnishes
Fresh coriander leaves (cilantro)
Serrano chili, sliced thin
Habanero chili, finely chopped
Raw cashews, finely chopped
Directions:
Chop all the vegetables and meat to have everything ready. Place a small amount of cooking oil (vegetable oil) – about 2 -3 tbsp into a skillet. Heat up the oil and add the cut garlic. Cook the garlic until just beginning to brown very slightly, and then add the whole cumin seeds. Continue to cook until the cumin seeds start to turn dark and the garlic has slightly browned. Do not overheat or over cook.
Turn down the heat to medium, and then add the chopped onions.
Continue cooking for a couple of minutes and then add the chopped tomatoes. Keep stirring.
Cook for another minute or so and then add the spices – the coriander powder and the turmeric powder. Add a little water to achieve the consistency of loose paste.
Cook for a couple of minutes, and then add the chopped green chilies. Note: depending on how hot you prefer the curry, thinly sliced Serrano chili peppers can be used for garnish or cooked with the vegetables and meat. You can add them a little later for less cooking time and more hotness.
Stir it around a bit and then add the fresh ginger root. Don't overcook it and cook away the flavor.
Now add all the remaining vegetables – the cauliflower, broccoli and sliced yams. Add enough water to cover the vegetables. Cook for about 25 minutes to soften the vegetables. Add the salt while the vegetables are cooking. Stir often.
Finally, add the chicken pieces and cook for about 5-7 minutes. Don't overcook the chicken. You want it to be moist and tender.
Serve hot. Garnish with fresh coriander leaves and sliced Serrano chilies for hotness.