Posts Tagged 'Vegetable Curry'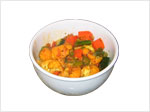 Vegetable curry is made by sautéing ingredients in a pan and gradually adding them a little at a time, infusing flavor into the ingredients as they are added. Heat up a little vegetable oil and then lightly sauté the garlic. Next, add whole cumin seeds and allow them to brown very slightly (about a minute or so). Then add some chopped red onions. Cook for a few minutes and then add some tomato paste (and, optionally, some chopped, ripe tomato). To this mixture, add spices (coriander seed powder and turmeric) with a little water. This will make a curry paste that becomes the base for everything else added later.
Add the vegetables that need the longest cooking time first (carrots and green beans), followed by the chopped chili peppers a few minutes later. Next, add the delicate flavors that you don't want to get cooked away too soon (fresh ginger and lime juice). The last vegetables added are the ones that need to be crunchy and not overcooked (cauliflower florets, broccoli florets and zuchchini). Don't add too much water. Keep the water level low and turn the vegetables often to bring them into contact with the hot cooking water. Serve hot and fresh right away. ... Read More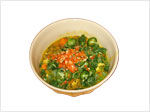 This is a basic vegetable curry recipe with chicken. The basic curry requires a little bit of vegetable oil for cooking, some chopped garlic, whole cumin seeds, red onions, tomatoes, mild green peppers, chopped ginger plus some turmeric root powder and some coriander powder. This is the basis for most any vegetable curry and takes about 6 to 8 minutes to cook thus far. Into this mixture you will add some vegetables. In this case I chose to add cauliflower, broccoli and yams. The vegetables require softening so they need to be cooked for about 25 to 30 minutes. Then I add some chicken cut into small pieces. Cook for another 5 minutes (don't cook the chicken too much … you don't want dry, hard chicken).
The basic idea for making curry is to have the ingredients all chopped up and prepared ahead of time. Start by sautéing chopped garlic in oil and gradually add each ingredient one after the other in a certain order, cooking each ingredient a little at a time. After sautéing the chopped garlic for a couple of minutes then you will add the whole cumin seeds. Cook them until the seeds are dark and the garlic is a very light tan color. Next, add the onions and cook them … you don't want them brown., Next, add the tomatoes … this will slow it down because tomatoes will contain some water. The last ingredient before adding the vegetables is the chopped ginger. You don't want to cook it too long and cook away the flavor … then you add the vegetables. You will probably need to add a little water for the vegetables. ... Read More