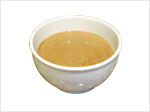 Here is a recipe for a vegan version of cream of mushroom soup without dairy. This recipe uses shitake, maitake and crimini mushrooms with vegetable broth and vegetable boullion along with onion, garlic and spices. It takes about an hour and a half to make.
The brandy I used was Christian Brothers VS and the nutritional yeast flakes were made by KAL. Both of these are readily available in stores. The creamy texture comes from raw cashews and a blender.
Ingredients:
1 onion, chopped
3 cloves garlic, finely chopped
1 lb rehydrated asst dried organic mushrooms, chopped – use equal amounts of:
4 cups organic vegetable broth
3-4 organic vegetable boullion cubes dissolved in 2 cups water
1/2 cup brandy
2 tbsp nutritional yeast
2 tbsp extra-virgin olive oil
1 cup raw cashews
1/2 tsp oregano
1/2 tsp thyme
1 tsp salt to taste
1/4 tsp pepper
Place dried mushrooms in a bowl and add water to about half way. Allow to rehydrate for about 30-40 minutes, stirring every 10 minutes or so. Net 1 lb rehydrated weight. Include any leftover liquid in the soup, if any.
Add olive oil to a large cooking pot. Sauté the garlic over a medium flame. Before they turn brown, add onions and continue to sauté. Add a little water if needed. When the onions are soft and translucent add the chopped mushrooms. Add a little more water and continue to sauté for another 10 – 12 minutes.
Next, and then add the 2 cups of reconstituted vegetable boullion. Stir well. Cover and simmer for about 5 minutes and then add the 4 cups of vegetable broth along with brandy, thyme, oregano, salt and pepper. Simmer for 20 minutes over a low heat, stirring occasionally.
Turn off heat. Place 4 cups of the hot soup into a blender. Add cashews and nutritional yeast and blend for about 6 to 8 minutes until smooth and creamy. Return to pot and heat for a few more minutes. Serve hot.