Posts Tagged 'Vegan Cream of Mushroom Soup'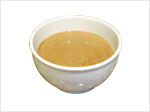 Here is a recipe for a vegan version of cream of mushroom soup without dairy. This recipe uses shitake, maitake and crimini mushrooms with vegetable broth and vegetable boullion along with onion, garlic and spices. It takes about an hour and a half to make.
The brandy I used was Christian Brothers VS and the nutritional yeast flakes were made by KAL. Both of these are readily available in stores. The creamy texture comes from raw cashews and a blender.