Posts Tagged 'Serrano peppers'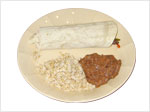 If you have a craving for something hot and spicy, then this is the perfect recipe! It's a hot and spicy burrito with grilled steak and 5 different chili peppers – and not just any chili peppers! It uses serranos, habaneros and jalapeños to supply the hotness plus it has Anaheim peppers and mini peppers for added flavor. It's pretty hot, but its good!
This recipe is similar to the steak fajitas recipe elsewhere in this website. The main difference is that this recipe calls for skirt steak instead of flat iron steak. Try to get a good cut of lean meat — preferably grass-fed beef. If it isn't so lean, then spend the time and trim away all the fat you can manage. You want the steak to be really lean for two reasons. First, it makes for better flavor and second, it is healthier with less fat.
The hot & spicy burrito is also prepared with guacamole. The recipe for guacamole can be found in the sauces and dressings section of this website. ... Read More