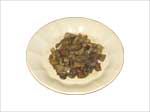 Portobello mushrooms are very popular and readily available in most local grocery stores and supermarkets. They are high in niacin, potassium and selenium. This is a delicious recipe that you can make very quickly and easily. It is cooked with white wine. You can make a non-alcoholic version simply by substituting the juice from 1/2 lime plus about 1 tablespoon of water instead of the white wine. The wine I used in this particular recipe was very inexpensive (Charles Shaw – also known as "Two Buck Chuck").
This is a good side dish and goes well with fish or meat as the main dish. They will make an excellent meal when served with steak, lamb or fish along with a tossed green salad or sliced tomatoes.
Ingredients:
4 Portobello mushrooms
1 lg onion
6 cloves garlic
1/3 cup white wine
1 tbsp olive oil
Salt
Cut Portobello mushrooms into 1/2 inch to 3/4 inch cubes. Chop the onion. Chop garlic cloves and place in frying pan. Sauté over a medium heat until garlic begins to look toasty. Add olive oil and turn heat down. Continue to sauté until garlic is soft and light brown in color, then add chopped vegetables to the pan. Salt to taste, then add white wine. Vegetables will be done when soft and brown.
Alternately: Use juice from 1/2 lime plus about 1 tbsp of water in place of the white wine.