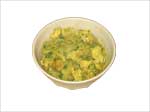 This is a delicious curry recipe that is relatively easy to make. You will need some turkey stew meat (turkey breast with all the fat and skin removed), fresh ginger root, Anaheim chili pepper, onion, garlic, plain yogurt, fresh coriander (cilantro), chicken broth and some curry powder. We buy our curry powder by the pound because it is more economical than what is available in grocery stores.
This recipe makes about 4 servings. It can be served by itself, but is best when served over brown rice. This isn't exactly a core food because it is made with a dairy product (yogurt) but it is still good. It is made with good, whole, natural foods.
Ingredients:
2 cups sliced onions
1 chopped green chili pepper (Anaheim chili)
1 tbsp. fresh ginger root, finely chopped
1 clove garlic, finely chopped
1 lb. turkey stew meat, bite sized pieces
1 tbsp. curry powder
1 cup chicken broth
1/4 cup chopped coriander (cilantro)
5 tbsp. plain yogurt
Start by cooking the brown rice. Use a rice cooker or tightly covered pot. While the rice is cooking, slice the onions into thin slices. For large onions, you can quarter them first. Chop the chili pepper, then finely chop the ginger and garlic (peel the ginger root before chopping). Add the sliced onions, chopped chili pepper, garlic and ginger to a large skillet along with a tbsp or two of coconut oil or butter, then cook over a medium flame until the onions are soft and slightly translucent (about 10 minutes). Add water if needed to keep from burning.
Cut the turkey into bite size pieces and add them to the skillet along with the curry powder. Mix thoroughly and cook for about 2 minutes until the curry is distributed evenly and the meat is slightly seared.
Add the chicken broth to the skillet, bring to a boil and simmer for about 5 minutes. Do not overcook the turkey.
When the chicken broth and curry are a smooth consistency, turn off the flame add the yogurt and coriander (cilantro), then stir to thoroughly mix everything.
Serve in bowls over brown rice.