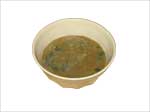 This is a delicious recipe for Palak Moong Dal. Dal is a thick soup or other Indian dish made with legumes. Palak Moong Dal is normally made with clarified butter or ghee, but plain butter or even coconut oil can be used in place of ghee if ghee is not available. Palak Moong Dal is a very healthy thick soup made with fresh vegetables and dried mung beans. It takes a couple hours to cook and you have to chop a lot of vegetables, but it is worth the trouble.
Start by obtaining all the ingredients from your grocery store. Some of the items you'll probably have to buy from a health food store – like dried mung beans and fresh ginger root. We make it using organic vegetables.
Ingredients:
1 cup whole mung beans, rinsed clean
5 cups water
1 tsp salt
1/4 tsp turmeric
3 cups fresh spinach, cleaned, stemmed & sliced (or a 10-oz pack frozen spinach)
2 cups finely sliced onions (approx. 1 large onion)
4 cups red ripe tomatoes, sliced and chopped into chunks (approx. 3 large tomatoes)
3 cups chopped Anaheim chili peppers (approx. 3 large peppers)
1 tbsp finely chopped fresh ginger (minced with a chef's knife)
1 tbsp crushed or minced garlic
1/4 cup fresh coriander (cilantro), chopped
1/2 tsp garam masala
1 1/2 tbsp whole cumin seeds
4-5 tbsp ghee (or butter or coconut oil if unavailable)
1. Cook the Dal
Measure out 1 cup of whole mung beans into a large cooking pot with lid. Rinse the beans then strain through a mesh colander 5 or 6 times until beans are clean. Add 5 cups water to the pot and then add 1/4 tsp turmeric and 1 tsp salt. Place lid on pot and heat over high flame just until the water starts to boil, then turn the flame way down and cook slowly over a low flame for 1 1/2 hours, stirring occasionally with a wooden spoon. Cook very slowly over a low flame to make a nice, creamy soup. After the mung beans have cooked for 1 1/2 hours, add the sliced spinach, then cover the pot and simmer for 15 minutes.
2. Prepare the "Spicy Tomato Butter"
While the dal is cooking, chop all the vegetables and prepare the spicy tomato butter. It is called "spicy tomato butter" because normally, you would use ghee (clarified butter) but you could also use butter or coconut oil if ghee is unavailable. The vegetables are cooked in a large skillet, adding ingredients gradually taking care to time everything very exactly.
Start by adding ghee to the skillet, then bring to a boil and then add the whole cumin seeds. Cook the cumin seeds for about a minute or two until they begin to darken.
Next, turn down the heat to a medium flame and add the sliced onions. Cook for about 10 to 12 minutes, stirring continuously with a wooden spoon until the onions are soft and translucent and the flavor of the cumin seeds is infused into the onions. There should also be a very nice aroma of cumin seed at this stage.
Next, add the chopped chili peppers, chopped coriander, ginger and garlic. Keep stirring with a wooden spoon and cook at this stage for a couple of minutes. Just cook long enough at this step to infuse the flavors a little bit.
Next, add the chopped tomatoes, then stir with a wooden spoon and cover the skillet and cook for about 20 minutes until the tomatoes are broken down and a are reddish yellow color. Stir occasionally during this time, taking care not to burn the vegetables. Add a little water if needed and adjust the flame as needed.
3. Add the Cooked Vegetables to the Dal
After the vegetables are cooked and the mung beans and spinach have simmered for 15 minutes, add them to the dal. At this time, add 1/2 tsp of garam masala and perhaps another 1/2 to 3/4 tsp of salt (to taste). Stir with a wooden spoon, then cover the pot and simmer for an additional 15 minutes to marry up all the flavors. Serve hot.