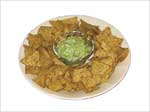 This is a quick and easy recipe for guacamole that is also very healthy. Avocados, hot peppers and garlic have health benefits.
The most important thing is to use ripe avocados – not too soft and not too hard. If you buy unripened avocados, you can put them in a paper bag in a dark place for a few days and they will ripen. Guacamole is best served with tortilla chips or sliced celery or carrots.
Guacamole Ingredients:
2 ripe avocados
1 Roma tomato
1 Shallot
2 garlic cloves
1 lime
1 jalapeño pepper
3/4 tsp salt
Directions:
Mash the 2 avocados in a mixing bowl. Squeeze the lime juice with a citrus juicer and add it to the bowl. Peel the shallot and garlic cloves then finely chop them plus the jalapeño pepper with a chopper. Dice the tomato then chop the diced tomato with the chopper. Add all chopped ingredients to the mixing bowl. Mix thoroughly and add salt. Makes 2 cups of guacamole.