Posts Tagged 'Chicken Tikka Masala'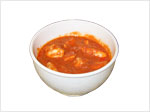 Chicken tikka masala can be prepared quickly and easily in about 10 minutes or so with simmer sauce either pre-prepared and available in a jar from a grocery store or from simmer sauce made from scratch. It is a mild curry sauce made with tomatoes.
The recipe for making tikka masala simmer sauce from scratch can be found at this website. Please check the "Sauces and Dressings" section on the Recipe Index Page (a link to the Recipe Index is located on the main navigation menu at the top of the page).