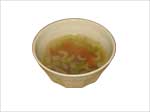 This is a quick and easy recipe for veggie soup that is also inexpensive and very healthy. This recipe makes enough to feed a small army or a large family (10 to 12 hefty servings). You can serve it "as-is" or you can add 1/4 cup to 1/3 cup cooked, diced turkey or chicken to the finished bowl.
It takes an hour and 20 minutes to cook, and total preparation time is about 15 to 20 to minutes. You can set a timer and go off and do something else while it is cooking. This is a very delicious soup and is sure to be a hit with family and company.
Veggie Soup Ingredients:
1 lb carrots
1/2 lb celery
1 large onion
2 vegetable bouillon cubes
10 cups water
1/4 tsp pepper
*1 1/2 tsp salt (if using low sodium boillon)
Directions:
Add water to a 1 gallon pot and place on stove and turn up flame to get water boiling. In the meantime, chop the carrots, celery and onion. When the water starts to boil, add the bouillon cubes. The directions for bouillon cubes usually state 1 cube per cup of water but for this recipe we want a little less than half the concentration because the vegetables supply a lot of the flavor.
Allow water to boil until bouillon is completely dissolved. Use a wooden spoon to help break up the bouillon cubes, if necessary. Then add chopped vegetables, salt and pepper.
*Note: Be careful not to use too much salt. The amount of salt depends on whether you are using low sodium or regular bouillon cubes. Regular bouillon cubes are very salty. Taste first before adding any salt. In this example, I am using low sodium bouillon cubes. Adding 1-1/2 tsp of salt in this case will make it slightly under-salted, but not too bland.
Bring the mixture back to a boil, then reduce flame, cover and simmer for about 1 hour and 20 minutes, stirring occasionally. Serve hot. Add cooked, diced chicken or turkey into the bowl to add protein and make more filling.