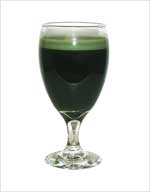 This is the recipe for our morning green drink. I found that it gives me energy and holds me over before breakfast so I can go for a morning walk without getting hungry. It takes about 5 minutes to make. Use a hand blender to blend all the ingredients and use an old jar with a lid that you can save from some other food product. The hand blender we use is a Cuisinart Smart Stick. We got it at our local Bed, Bath & Beyond store.
The Berry Greens we use are called "Delicious Berry Greens 8000". They are made by Pakonen Nutraceuticals Inc. (www.greens8000.com), but they are available from many online distributors at better prices. Just search Google for "Delicious Berry Greens 8000".
The Spirulina powder and the Barley Grass powder we use is from Starwest Botanicals and they each come in a 1-lb re-sealable bag. The Chlorella powder we use is called Jarrow Formulas "Yaeyama Chlorella" (1 kg) . We buy all 3 of these from from VitaCost.com (www.vitacost.com).
Instant Green Drink (makes 2 servings)
1 tbsp Spirulina powder
2 scoops Berry Greens (it comes with a scoop)
1 tbsp Chlorella powder
1 tbsp Barley Grass powder
24 oz drinking water (bottled, distilled or filtered)
Directions:
Add 1 tbsp Spirulina to an empty glass shaker (with lid). We use an empty jar with lid that we saved from some other food product. Add about 8 oz drinking water to the jar (bottled, distilled or filtered). Mix with a hand blender for a few seconds. This is to mix the Spirulina. It tends to get clumpy if you don't mix it first. Next, add the Berry Greens, then the Chlorella and then the Barley Greens. Add more water bringing the total up to 24 oz (enough for 2 servings). Put the lid on the jar and shake it thoroughly for a few seconds to submerge all the powders, then remove the lid and blend with a hand blender for about 30-45 seconds. Make sure everything is blended thoroughly. Serve immediately. Makes 2 servings.