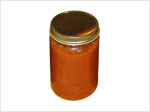 Tikka masala is a mild curry sauce that you can use for simmering meat like chicken or turkey. Making chicken or turkey tikka masala is easy and convenient when you buy the tikka masala simmer sauce in a jar, because all you have to do is sear the meat, then add the simmer sauce and cook for about 7 or 8 minutes.
Tikka masala sauce in a jar usually contains heavy cream. With this recipe you can make your own homemade sauce and you can still use heavy cream or plain yogurt as a substitute. You can also use a cooking fat like butter or coconut oil to properly sauté the onions and to get the right flavor of the curry. 
Ingredients: (enough for about 2 lbs of chicken or turkey meat):
28 oz can of diced tomatoes
6 oz can of tomato paste (or 1 1/2 cup tomato puree as an alternate)
 3/4 cup to 1 cup heavy cream or plain yogurt
1/2 cup chopped red onions
2 tbsp vegetable oil
2 tbsp fresh squeezed lemon juice (approx from one small lemon)
1 tbsp fresh ginger root, shredded and chopped
1 tbsp crushed garlic
2 tsp ground cumin
2 tsp coriander powder
2 tsp paprika
2 tsp salt (to taste)
1 tsp honey (to taste)
1/4 tsp cayenne pepper
Add the can of tomato paste into a small bowl then make a puree by adding a some water from the tomato paste jar or can (I prefer organic tomato paste sold in a jar). Then mix the crushed garlic and shredded ginger root into a paste. Add oil to a skillet and heat it up. Add the onions and cook for a few minutes, then add the can of diced tomatoes and the tomato paste puree.
Cook for a few minutes, and then add ground cumin and coriander powder. Add a little water if necessary. You want to cook it until it thickens, but you don't want it thickening up too soon.
Cook for a few minutes, and then add paprika and cayenne pepper. Continue cooking until it looks like it will be done in a few minutes.
Stir it in really good, and then add the garlic and ginger paste. Keep stirring and continue to cook for a few more minutes. The whole point here is not to cook too much after adding the garlic and ginger. You don't want to cook away the flavor. You just want to infuse the flavors.
Cook it down until it is getting thick, and then add the cream or yogurt. Stir it in real good, but don't cook it too long – just a minute or so.
Finally, turn off the flame, add the lemon juice, then salt and honey to taste. Just a little bit of honey to offset any sourness.
The cooking time is about 20 – 25 minutes total.
Place the cooked sauce into a bowl. Now it is ready to use to make chicken or turkey tikka masala.
Obtain skinless turkey breast or chicken breast. Cut the meat up into small pieces and add to a skillet. Sear the meat over a high flame for a few minutes, then turn the flame down and add the sauce. Simmer for 7 or 8 minutes. Don't overcook the meat so it is tender and juicy. Serve hot.