Posts Tagged 'Kale Chips'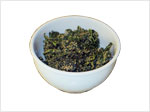 This is a recipe for Asian flavored kale chips. It is fairly low in calories, gluten free and dairy free. It is made in the same way as the Southwest Kale Chips posted here at the website (see recipe index). You will also need a big mixing bowl – about 8 quart capacity. This recipe uses raw almonds, but you can substitute with raw almond butter if preferred.
Asian kale chips are easy to make with a food processor and a dehydrator. Always try to find good quality organic ingredients whenever possible – especially the soy sauce and miso paste. These two items are made with fermented soy and soy is one of the big GMO crops. So make sure to select only organic miso paste and soy sauce to avoid GMO soy.