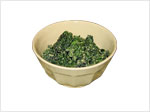 Crispy kale is a hugely popular snack with many varieties available in stores and with many recipes online. This recipe is a fairly low calorie snack and it is also vegan. There is no gluten or dairy. This recipe has a tangy, "cheesy", southwestern flavor, with some spicy habanero chili pepper. It contains some nutritional yeast which gives it the cheesy flavor.
This crispy kale recipe is easy to make. You will need a food processor and a dehydrator. Try to use good quality organic ingredients whenever possible. Insist on organic miso paste to avoid GMO soy. You can adjust the spicy hot flavor by using more or less habanero pepper. Habaneros come in small sizes if less hotness is more desirable.
Ingredients:
2 bunches organic kale, chopped, stems removed
1 cup raw organic cashews
1/3 cup hulled organic sesame seeds
Juice from 1 lemon
2 tbsp nutritional yeast
1 1/2 tbsp organic white miso paste (Sweet White miso)
1 tbsp organic chia seeds
1 tsp organic apple cider vinegar (with the mother)
3/4 tsp minced onion flakes or powdered onion
1/2 tsp garlic powder or 1 large clove fresh garlic
1 medium habanero pepper
Pinch sea salt (about 1/8 tsp)
For each kale leaf, remove the stem with a chef's knife then cut or pull apart leaves into chunks. First, slice it along one side of the stem and then along the other side, then cut it away from the leafy part at the tip. Place into large (8 qt) mixing bowl.
Make a wet paste from the remaining ingredients with a food processor. Mix thoroughly for several minutes. You don't want it too thick and heavy like nut butter or tahini. That's too heavy. You want it thinner but still a little pasty. Add some water to thin it. After everything has been processed and ground up and mixed thoroughly, gradually add water a little at a time to reach the desired consistency. The amount just depends on the batch.
Add the mixture to the chopped kale in the mixing bowl. Set aside some of the chopped kale beforehand to use as a broom to sweep out the food processor. Use a stiff plastic spatula and toss it all around, mixing everything together so that the paste is distributed evenly all over the chopped kale.
Prepare three or four dehydrator trays with a non-stick sheet on each tray. Using a pair of stainless steel tongs, divide up the mixture evenly between the dehydrator trays and spread the mixture out over them. Dehydrate at 115°F for about 12 hours.