Posts Tagged 'Crispy Kale'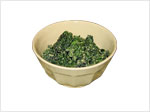 Crispy kale is a hugely popular snack with many varieties available in stores and with many recipes online. This recipe is a fairly low calorie snack and it is also vegan. There is no gluten or dairy. This recipe has a tangy, "cheesy", southwestern flavor, with some spicy habanero chili pepper. It contains some nutritional yeast which gives it the cheesy flavor.
This crispy kale recipe is easy to make. You will need a food processor and a dehydrator. Try to use good quality organic ingredients whenever possible. Insist on organic miso paste to avoid GMO soy. You can adjust the spicy hot flavor by using more or less habanero pepper. Habaneros come in small sizes if less hotness is more desirable.