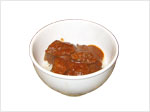 This is a spicy beef curry dish that is relatively easy to make. It can be made from good quality cuts of meat or cheaper cuts if desired. I have made it with skirt steak and sirloin steak cut into stew meat but it can also be made from cheaper cuts of meat like chuck steak.
I have even made this recipe with key limes in place of the lemon. They are very tart like lemons and they have their own unique flavor. You can also add half and half lemon juice with lime juice. You can try different combinations of lemon juice and key lime or lime juices to vary the taste.
Ingredients:
3 lbs steak, cut into chunks (sirloin, chuck or skirt steak)
2 tbsp coriander seed powder
1 tbsp cumin seed powder
1 tsp turmeric
1 tsp red chili powder
1/2 tsp ground black pepper
1 tbsp fresh ginger, grated and chopped
2 cloves garlic, finely chopped (or 1 tbsp crushed garlic)
Juice from one lemon
1 cup beef broth
1 – 6oz can of tomato paste
Coconut oil
Salt to taste
This recipe is adapted from a Madras Beef Curry recipe: http://www.taste.com.au/recipes/7665/madras+beef+curry This version uses more lemon juice and a lot more tomato paste. In a medium mixing bowl, add cumin seed powder, turmeric and coriander seed powder along with black pepper, red chili powder, chopped garlic and grated ginger. Add enough fresh squeezed lemon juice to make a curry paste – usually from one medium lemon, but maybe more. Set aside.
Add the tomato paste to another medium bowl along with 1/2 of water and stir into the tomato paste to the consistency of a thick puree. Set aside.
Add about a tbsp of coconut oil to a cooking pot with lid. Heat it up and add one lb of the meat. Use steel tongs to stir it all around until browned. Place in a bowl and repeat for the remaining two lbs of meat. Some fond should develop in the pot from browning the meat that will contribute to the sauce in the next steps.
Add the curry paste to the pot and heat over a low flame for about a minute. Add all the browned meat from the previous step and stir it all around and cook the mixture for a few minutes to infuse the flavors into the meat. Now add the tomato paste and beef both.
Mix it all together and bring to a boil, then lower the flame and cook over a low heat with the lid on the pot. Cook for about 40 – 45 minutes, stirring every once in awhile. Add salt to taste. Skim off any excess fat as needed.
After cooking over a low flame, remove the lid and increase the flame a little to reduce and thicken the sauce – about 10 – 15 minutes more.
Serve hot.