Posts Tagged 'Madras Beef Curry'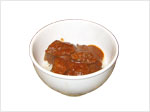 This is a spicy beef curry dish that is relatively easy to make. It can be made from good quality cuts of meat or cheaper cuts if desired. I have made it with skirt steak and sirloin steak cut into stew meat but it can also be made from cheaper cuts of meat like chuck steak.
I have even made this recipe with key limes in place of the lemon. They are very tart like lemons and they have their own unique flavor. You can also add half and half lemon juice with lime juice. You can try different combinations of lemon juice and key lime or lime juices to vary the taste.