Archive for the 'Healthy Meals' Category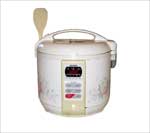 Brown rice is one of the staple foods for a healthy eating plan. Many cultures throughout history have recognized its nourishment value and you will easily find many delicious recipes that use brown rice. We decided to buy a rice cooker (see photo to left) because making rice with a rice cooker is very easy. You simply add measured amounts of rice and water, turn it on and it will cook perfect rice every time – automatically. This is an older model made by the Zojirushi company (a Japanese manufacturer). This model was about $80 several years ago. It has a built in "keep warm" cycle and has push button controls for brown rice and white rice.
Most rice cookers nowadays are fully automatic with a built-in warmer and timer with cooking options for brown rice and white rice. We recently purchased one at Costco as a gift for someone for about $30. That was a pretty good deal, but we don't have any actual experience with it. Just reading some of the online reviews, Zojirushi models seem to be the best.
If you don't want to buy a rice cooker, then you will have to use a regular stainless steel cooking pot with a good sealing lid. You add measured amounts of rice and water (approx 1.5 cups of water per cup of rice), then you set the flame high to boil the water and rice. Then you will turn down the flame and partially cover the rice (allow a gap in the lid) to allow steam to escape. After the rice has been cooking for a few minutes, open the lid and look for gaps or holes ("craters"). At this point, put the lid on tight and turn the flame way down low and let it simmer for about 15 minutes. Do not open the lid during this time. Keep it on tight. When the rice is done, open the lid and fluff the rice.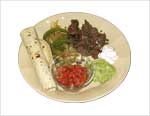 Steak Fajitas are very healthy and high in protein. They are easy to make and should go over very well with family and friends. You can serve it with some guacamole which you can also make at home using the guacamole recipe here.
Traditionally, steak fajitas are made with flank steak (or skirt steak), but in this example I am using Flat Iron steak. It is very similar to the more traditional cuts of meat for steak fajitas but it is a lot more tender. We buy grass fed beef from an online source. It is better quality than grain fed beef.
Steak Fajitas Ingredients:
2 lbs Flat Iron steak (or flank steak or skirt steak)
2 large yellow onions
2 large green bell peppers
Marinade:
Juice from 2 limes
1/4 cup olive oil
4 cloves garlic, finely chopped
1 tsp ground cumin
1 Jalapeño pepper, ribs and seeds removed, finely chopped
1/2 cup fresh cilantro, chopped (include the stems)
1. Prepare the marinade and steak:
Add all the marinade ingredients to a large glass bowl, and then stir to mix thoroughly. Slice the steak into thin strips – about 1/4 inches thick. Use an electric knife for best results. Cut the strips to about 1 inch wide by 3 inches to 4 inches in length. Add the strips of steak to the marinade in the glass bowl and thoroughly mix together so the marinade is allowed to coat all the pieces of steak. Cover the bowl and place it in the refrigerator. Marinade the steak for at least a couple of hours. For best results, allow to marinade overnight.
2. Prepare the vegetables:
Slice the onions lengthwise into 3/8 inch strips. First cut them in half, then into quarters as you would normally slice an onion, but then instead of chopping them cross-wise, slice them lengthwise into strips.
Slice the bell peppers into 3/8 inch strips similar to the onions. First, cut out the stem, then slice each pepper in half lengthwise, then into quarters, then remove the seeds and ribs, then slice into strips.
3. Cooking:
Grill the steak on a gas grill. Arrange the grill grates by laying them one on top of the other in a staggered fashion so the spaces between the grates are narrow to keep the meat from falling through. Use grilling tongs to turn the meat. While the meat is cooking on the grill, cook the vegetables in a large skillet. Cook the vegetables until the onions are slightly translucent. Both the meat and the vegetables should be done in about 12 to 15 minutes. Turn the vegetables continuously to avoid burning them and turn the meat a few times while grilling. Place the cooked meat and cooked vegetables in separate serving bowls when done.
4. Serving:
Serve portions of meat and vegetables on a plate with 2 flour tortillas, guacamole, salsa and sour cream. Place a couple of strips of meat on a tortilla, then top with vegetables, salsa, guacamole and sour cream. Salt to taste if desired. Roll the tortilla around the ingredients and enjoy! Optionally, serve with cooked pinto beans.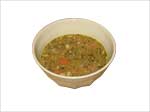 This is a great recipe for turkey soup that you can make when roasting a turkey. Instead of throwing away the carcass, you can easily make this delicious and healthy soup. You can vary the amounts of the ingredients to make it brothy and light or more concentrated with more vegetables. It takes about 2 to 3 hours to make, so plan on a long day when roasting a turkey. You can either make this soup with the carcass alone, or you can completely de-bone the entire turkey and dice the meat for sandwiches and use all the bones.
Turkey Soup Ingredients:
1 carcass from a roasted turkey
1 – 2 lb carrots
1/2 – 1 lb celery
1 – 2 large onions
2 – 4 bay leaves
1 1/2 – 3 tsp thyme
2 – 4 cloves garlic – chopped
1 – 2 1/2 gallons water
1/4 – 1/2 tsp pepper
2 – 3 tsp salt
Directions:
When roasting a turkey, plan for making the soup with the carcass to avoid wasting it. When you begin carving the turkey, add water to a 1 to 3 gallon pot and place on stove and turn up flame to get water boiling. Note the range of ingredients and that you can vary the soup somewhere between a light, brothy style or a hardier style with more vegetables. You can make it to your liking. Simply add more or less ingredients according to the ranges in the ingredients list. Use the larger amounts of ingredients when using the larger amount of water (and a larger pot), or use fewer carrots, celery and onions with the larger amount of water for a brothier soup. Use the smaller amounts when a more concentrated variety is desired. Either way, it will be good.
When the water starts to boil, add the turkey carcass and all the bones to the heating water. Next, add the bay leaves. In the meantime, chop the carrots, celery and onion, then add the chopped vegetables to the water. Then add the thyme, pepper and salt. Cover and return to a boil, then lower the flame and keep it at a low boil for about 2 hours.
After a couple of hours, check the water level and add more water as needed to replace any that gets boiled off. Also check the meat on the bones. Somewhere between 2 1/2 and 3 hours, all the meat should be falling off the bones.
When the soup has finished cooking, use a pair of kitchen tongs to separate all the bones and place them into a strainer over a plate. After the bones have drained, pour the strained soup back into the pot, then separate all the meat from the bones and add it to the soup.
Making a roast turkey is very easy to do. We cook a lot of turkey in our household because it is a good source of protein and it can be used in a variety of dishes. Most of the time is spent cooking. It is not as hard as it looks.
Start by obtaining a whole bird and make sure it is completely thawed, first. Note its weight and plan for a cooking time according to the table below:
| | | |
| --- | --- | --- |
| Net Weight | Unstuffed (Hrs.) | Stuffed (Hrs.) |
| 14 – 16 Lbs. | 3 – 3 ½ Hrs. | 3 ½ – 3 ¾ Hrs. |
| 16 – 18 Lbs. | 3 ½ – 3 ¾ Hrs. | 3 ¾ – 4 Hrs. |
| 18 – 20 Lbs. | 3 ¾ – 4 Hrs. | 4 – 4 ½ Hrs. |
| 20 – 22 Lbs. | 4 – 4 ½ Hrs. | 4 ½ – 5 Hrs. |
| 22 – 24 Lbs. | 4 ½ – 5 Hrs. | 5 – 5 ½ Hrs. |
Note: the actual cooking time may vary from this chart. The turkey will be done when the temperature in the deepest part of the thigh reaches 180° and when the juices are clear when the thigh muscle is carved (not reddish pink).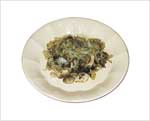 This is a very simple recipe with a lot of possibilities. It can be prepared fairly quickly and easily (about 10 – 15 minutes). This dish can given a completely different character by using the various seasoning options.
I like the basic garlic and oregano version, but the other two seasoning options are equally good. One of the unusual ways to season this dish is to use toasted onions. Toasted onions used to be available in most stores in the spice section, but lately I haven't seen them. You will have to find them either at a store that offers imported foods or you will have to obtain them online. You can add them dry after cooking or you can add them during cooking. I prefer to add them during cooking.
The third seasoning option is to use a little toasted sesame oil during cooking. Toasted sesame oil is available at most health food stores.
Ground Beef with Mushrooms and Onions
1 lb Ground beef
10 oz Sliced mushrooms
1 Medium onion
Seasoning
Divide the ground beef into 4 parts and make 4 patties. Grill the patties until done. Chop the onion and add to a frying pan. Add the mushrooms to the pan and cook for about 10 minutes over a medium flame. Add seasoning while cooking. Top each patty with a portion of the cooked mushrooms and onions.
Seasoning Options (choose one from the following):
Salt, pepper, garlic powder (or granulated garlic) and oregano
Salt plus toasted onions (chopped/minced)
Salt, pepper and toasted sesame oil