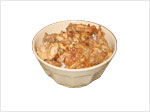 This recipe was inspired by a Korean husband and wife who operated a small restaurant in Sun Valley, CA that I would frequent back in the 1990's. They made the best chicken teriyaki that I have ever tasted. It was addictive! I always wanted to know how they did it, but I suppose it was a secret family recipe.
Recently, while cooking at home about 20 years later, I ran across a dish with some ingredients that had a very faint, but similar resemblance to that old recipe. It got my taste buds (and my imagination) going so I set out to nail down this recipe and get it right.
There are two parts to this recipe – one, the marinade, and two, the meat. The marinade is key, but the meat has to be just right, also. As it turns out, you have to use chicken wings or drumettes and you have to skin them and debone them to get the right flavor and texture. Skinless breast meat or skinned and deboned thighs are not good enough, but if that's all you have, it will be so so but not great. When you debone the wings or drumettes and remove the skin, you are left with small pieces of meat that have the exact flavor and texture that you want – trust me.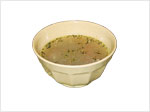 Making chicken soup is very easy and is a good way to make use of the bones from deboning chicken wings, drumettes, thighs or legs. All you need is some celery and carrots and some basil, oregano and salt. This recipe calls for about a lb. of chicken bones – from approximately 5 lbs of chicken thighs or drumettes. The amount of bones you will get will vary and you can adjust the amounts of bones and vegetables more or less, but this recipe will give you a general idea.
Expect the cooking time to be around 3 to 4 hours. You can tell when it's done when the meat has fallen off the bones. Use a pair of tongs to remove the bones from the soup before serving. ... Read More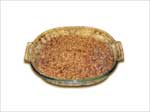 Natto is a Japanese fermented soy dish that can be made very easily from cooked soybeans. In order to make natto at home you will need a couple of things. First, you will have to obtain some cultured natto bacillus (Natto Kin) to add to some cooked soybeans. Simply obtain some frozen natto from an Asian market. The frozen natto will contain the live culture that you can use to innoculate your batch.
The second thing you will need is a thermostatically controlled device like a warming drawer or crock pot which can be set to 104°F – 105°F and will maintain a steady temperature for 24 hours to allow the live culture grow and reproduce so the natto will ferment properly.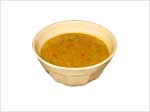 Mung bean soup is a thick, heavy bodied soup that you can serve as a meal in itself. Mung beans are sold in health food stores. They are used for sprouting (bean sprouts) and cooking in soups. Mung beans are popular with Indian cuisine and it makes a thick soup called "Dal". It goes great with curry dishes or all by itself
This recipe is very easy to make. It cooks pretty fast for a soup. A lot of soups take hours to cook but not this one. It has a mildly spicy flavor – not too hot. It uses Anaheim chili peppers, which are very mild – not very hot at all, so don't be afraid to cook with them. It uses fresh ginger and cilantro which adds a lot of zing to the soup.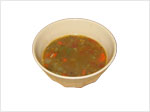 Lentil soup is a hearty, thick soup and is very popular with family and friends. Many lentil soup recipes call for adding a ham bone or pork or other meat. This is a vegetarian version that has no animal products or animal fat. It uses a little bit of olive oil but that is a good, healthy fat.
This is a hearty, delicious and healthy soup recipe that is sure to be a favortie with friends and family. It is low in fat and high in satisfying flavor.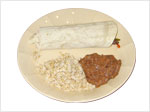 If you have a craving for something hot and spicy, then this is the perfect recipe! It's a hot and spicy burrito with grilled steak and 5 different chili peppers – and not just any chili peppers! It uses serranos, habaneros and jalapeños to supply the hotness plus it has Anaheim peppers and mini peppers for added flavor. It's pretty hot, but its good!
This recipe is similar to the steak fajitas recipe elsewhere in this website. The main difference is that this recipe calls for skirt steak instead of flat iron steak. Try to get a good cut of lean meat — preferably grass-fed beef. If it isn't so lean, then spend the time and trim away all the fat you can manage. You want the steak to be really lean for two reasons. First, it makes for better flavor and second, it is healthier with less fat.
The hot & spicy burrito is also prepared with guacamole. The recipe for guacamole can be found in the sauces and dressings section of this website. ... Read More
A shocking new documentary, Scientists Under Attack – Genetic Engineering in the Magnetic Field of Money, exposes the attack on scientists who speak out against genetically modified foods (GMOs). It is produced by DENKmal-Film of Germany (website: www.denkmal-film.com). An English translation version is in process. The film is scheduled for released in theaters March 10, 2011.
Watch trailer
This film by the German film-maker Bertram Verhaag is a political thriller. It is a story of two scientists, Dr Arpad Pusztai and Dr Ignacio Chapela, whose research on GMO foods and crops showed negative findings. The two scientists were vilified and intimidated and their careers derailed when their research was shown to be unfavorable to Big Food.
The attack on scientists is very well structured by the biotech industry. It's systematic. It's worldwide. It's very coordinated. It's part of the way they do business – Jeffrey Smith, author of the book: Seeds of Deception
The movie is a tale about big agribusiness, GMOs and freedom of speech and the attempts by the biotech industry to suppress and discredit scientists and their research.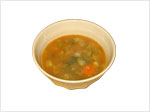 This is the quickest vegetable soup recipe that I know. It is delicious and low in fat, yet very fast and easy to make. Most soups take a lot of time to make and usually you wind up making enough to feed a small army. You can make a half-batch of this recipe if you like (all the photos I shot were a half-batch).
So with this recipe you can make it fast plus you can make it in small batches. Those are two big plus points … and another plus is that it is healthy! We try to use all organic ingredients – organic broth, organic basil and oregano, organic carrots, green beans and cabbage.
The secret to this recipe is that you start with vegetable broth and beef broth. They come in handy 32-oz containers. That's what saves the time. We only use organic broths because we want to make sure they are healthy to begin with. You simply add in fresh vegetables. It only takes a few minutes to chop them. Using fresh vegetables always ensures you're getting good food. That's important. ... Read More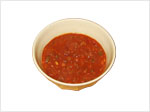 There's nothing like homemade chili! It seems like everyone has his or her own special recipe so this is my version. You can cook it up on the stove in a couple of hours. You first need to have some cooked pinto beans. You can cook them the day before and keep them in the refrigerator or soak them the night before and cook the beans and the chili all in one day. They take about 3 hours to cook after soaking all night.
Everything in this recipe is healthy. I use grass-fed ground beef. It's the best quality beef you can obtain. Some chili recipes call for kidney beans, but this one uses pinto beans.
This recipe uses 3 different kinds of chili peppers – Anaheim, serrano and sweet mini-peppers. The Anaheim peppers are very mild and the serrano peppers provide all the hotness. You can substitute jalapeño peppers for the serrano peppers if you want. Jalapeño peppers are not quite as hot, but will work. The nice thing about cooking with peppers is that it seems no matter how you combine them, you can taste all the individual flavors. ... Read More
Water kefir is a delicious and easy-to-make probiotic drink that you can make yourself at home. I find this to be a very inexpensive way to culture your own probiotics. Just make them yourself from a live culture – like water kefir – and use the living culture to repeat the process over and over.
Most of the websites that show how to make water kefir either sell the hydrated, living kefir grains from their websites or advise that you obtain the kefir grains from someone else who has a growing culture and can spare some kefir grains that have multiplied.
In this article, I will show you a different way. You can buy your own dehydrated water kefir grains on the Internet and then rehydrate them yourself. Rehydrating kefir grains will take just a few days and, following that, you can make regular, running batches of water kefir from them.